Wyoming becomes the first US state to ban abortion pills.
Those "prescribing, distributing, distributing, selling or using any drug for the purpose of facilitating or performing an abortion" face up to six months in prison and a fine of up to $9,000 (£7,300).
However, the law adds that "women who perform or attempt to perform a chemical abortion shall not be held criminally responsible".
Wyoming Republican Gov. Mark Gordon signed the bill into law after it was approved by state lawmakers earlier this month.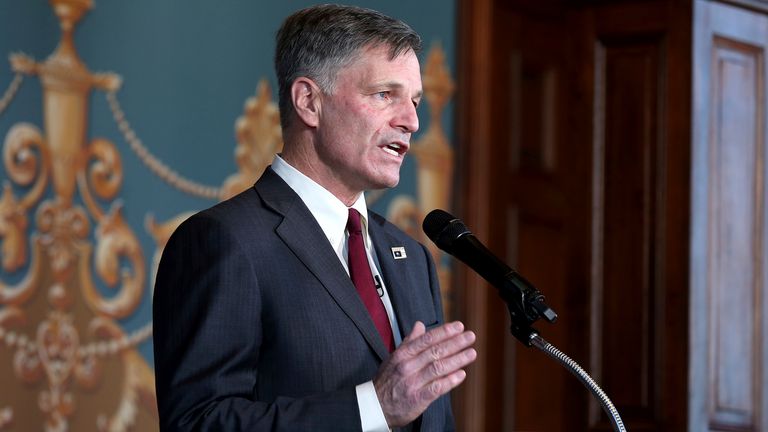 It follows a U.S. Supreme Court ruling last year overturning the landmark 1973 Roe v Wade decision, which granted American women the constitutional right to abortion.
Under Wyoming's new law, "morning-after pills," prescription birth control pills used after sex but before a pregnancy is confirmed, will be exempt from the ban.
Exemptions will also be granted for treatment necessary to protect a woman "from imminent danger of serious danger to her life or health," as well as any treatment "for a spontaneous abortion performed in accordance with currently accepted medical guidelines."
In addition to banning the abortion pill, Gov. Gordon allowed a separate, more comprehensive measure restricting abortion to become law without his signature.
Signing the bill would lead to a lawsuit that would "delay any resolution of the constitutionality" of Wyoming's abortion ban, he said.
read more:
What has changed since Roe v Wade was overturned?
The state is currently pushing for a more comprehensive ban on abortion, with an early abortion ban bill currently at the center of a court battle.
The previous bill was struck down by a court after providers claimed the law violated Wyoming's constitutional guarantee of freedom of health care decisions.
Meanwhile, a federal judge in Texas is considering ordering a nationwide ban on the abortion drug mifepristone in response to a lawsuit from anti-abortion groups.
Antonio Serrano, director of advocacy for the American Civil Liberties Union (ACLU) in Wyoming, criticized Gov. Gordon's decision to sign the abortion bill.
"A person's health, not politics, should guide important medical decisions — including the decision to have an abortion," Mr. Serrano said.
After Roe v Wade, 15 states have limited access to abortion pills, six of which require in-person doctor visits.
Since the ruling was overturned, abortion restrictions have been left to states to create their own legislation, rather than making abortion a constitutional right.