The United States has carried out airstrikes on targets backed by Iran's Revolutionary Guard Corps in Syria following a deadly attack on a coalition base.
Pentagon says U.S. contractor killed in suspected Iranian drone attack on northeast facility Syria Thursday.
Five U.S. service members and another U.S. contractor were also wounded in the attack.
Defense Secretary Lloyd Austin said the US retaliated with "precision airstrikes" in eastern Syria on facilities used by Iran's Revolutionary Guards-affiliated group.
Mr Austin said the airstrike was in response to Thursday's drone attack by a Revolutionary Guards-affiliated group "and a series of recent attacks against coalition forces in Syria".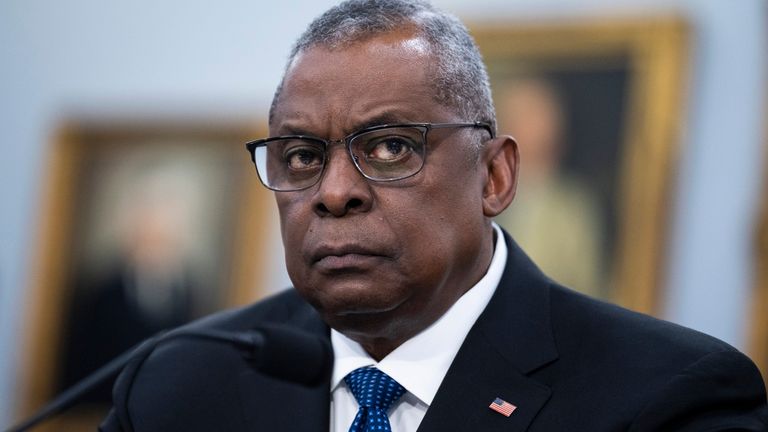 Videos on social media appeared to show explosions in Syria's Deir ez-Zor, a strategic province that borders Iraq and hosts oil fields.
The area, which is controlled by Iran-backed militias and the Syrian army, has also carried out suspected Israeli airstrikes in recent months, allegedly targeting Iranian supply lines.
Mr Austin said he authorized the retaliatory strike at the direction of US President Joe Biden.
He added: "As President Biden has made clear, we will do whatever is necessary to defend our people and will always respond when and where we choose.
"No group will attack our military with impunity."
read more:
Iran 'secretly supplies arms to Russia'
The Enduring Legacy of the US Invasion of Iraq
Iran's paramilitary Revolutionary Guard Corps, which is responsible only to Supreme Leader Ayatollah Ali Khamenei, is suspected of using bomb-carrying drones to carry out attacks in the wider Middle East.
In recent months, Russia has begun using Iranian drones to attack locations across Ukraine as part of its ongoing incursions into the country.
Did Iran supply ammunition to Russia?

Iran has denied responsibility for such attacks, although Western countries and experts have linked parts of the drone to Tehran.
The Pentagon said intelligence agencies determined that the drone involved in Thursday's attack came from Iran.
US warns of more airstrikes 'if necessary'
Army Gen. Michael "Eric" Curira, the commander of U.S. Army Central Command, warned that troops could conduct additional strikes if necessary.
"In the face of any additional Iranian attacks, we are prepared with scalable options," he said.
Syria's state-run SANA news agency did not immediately acknowledge any attacks in the east, which Iran has yet to respond to, which occurred during the Muslim fasting month of Ramadan.
The United States launched attacks on Syria in February 2021, June of that year, and August 2022 due to tensions with Iran.
U.S. forces, which entered Syria in 2015 to support the coalition in the fight against the Islamic State group, remain at the base near Hasakah in northeastern Syria where Thursday's drone attack took place.
There are currently about 900 U.S. troops in Syria.