The Republican-controlled House of Representatives in Tennessee expelled two Democrats for participating in a gun control demonstration at the state legislature last week.
Protest takes place after school Filmed in Nashville On March 27, six people, including three children, were killed.
Republicans, who control the House of Representatives 75-23, voted to remove Reps. Justin Jones and Justin Pearson.
The move to fire a third Democrat, Gloria Johnson, who stood with them during the House protests, failed by one vote.
Republican Representatives Andrew Farmer, Gino Bulso and Bud Hulsey filed three resolutions on Monday to expel their Democratic colleagues, saying they lead demonstrations that undermine etiquette.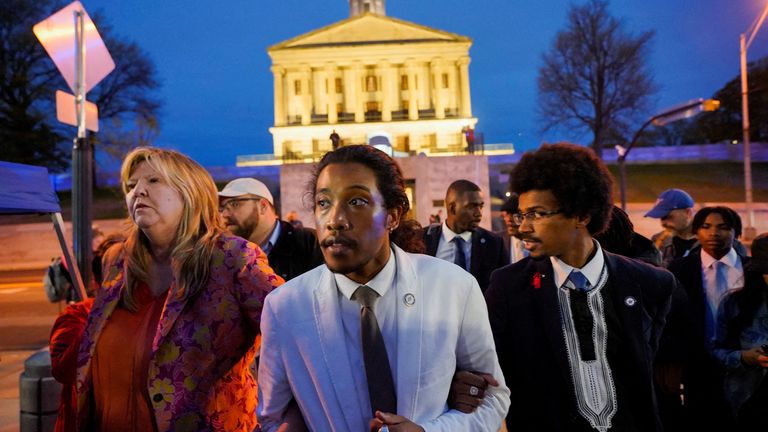 The House voted along party lines to remove Mr Jones 72 to 25 and Mr Pearson 69 to 26. But Ms Johnson survived when the vote to oust her was 65-30.
A total of 66 votes are required for expulsion.
"You can't ignore the racial dynamics of what happened today. Two young black legislators got fired and a white woman didn't. That's a statement in itself," Mr Pearson told reporters after the vote.
President Joe Biden condemned the process on Twitter, calling it "appalling, undemocratic and unprecedented."
Former President Barack Obama also criticized the move, saying: "This country was built on peaceful protest. No elected official should lose their job just for raising their voices – especially when they are doing so on behalf of our children hour."
read more:
Nashville school shooting: First photos of victims emerge
Nashville school shooter 'planned attack for months'
only two Tennessee Since the Civil War, state representatives have been fired by their colleagues: one in 1980 for soliciting bribes in exchange for blocking legislation, another in 2016 after being accused of sexual misconduct by numerous women.
Both evictions came with overwhelming bipartisan votes.
Democrats in Tennessee say they are raising money to support a special election for anyone who gets fired.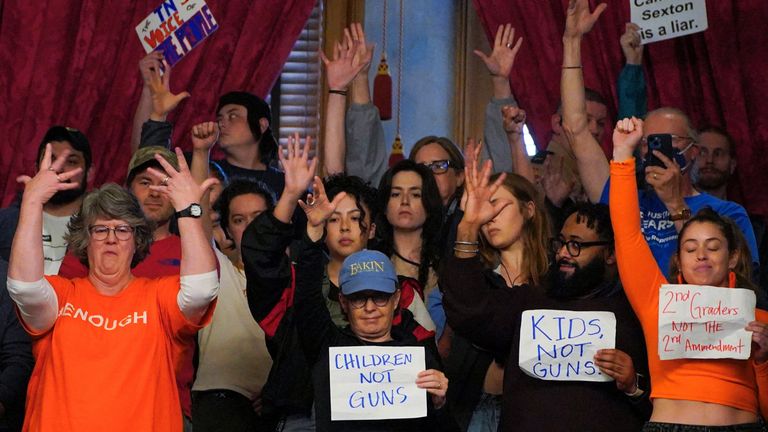 Three Democratic lawmakers led protesters last week demanding stricter gun laws.
In a resolution calling for their deportation, Republicans accused the trio of engaging in "disorderly conduct" and said they "did knowingly and deliberately bring chaos and disgrace to the House of Representatives through their individual and collective actions." .