Homecoming often means your parents will insist that you bring back enough food to stock your freezer until the next December holiday. It could also mean that you want to take home your favorite neighborhood pastry for your family to try out. But there are certain food rules and regulations that you need to keep in mind before checking in for your flight.
Thankfully, it's easy to find out what you can and can't bring with you when traveling through the airport. Ultimately it comes down to Transportation Security Administration (TSA) regulations and whether you're taking solids or liquids on board. Most importantly, you need to keep in mind the TSA's 3-1-1 liquid rule, which means you can carry quart-sized bags of liquids, sprays, gels, creams, and pastes. These are limited to travel-size containers of 3.4 ounces or less per item — including food.
If you're not sure whether to take anything through security, you should consider putting it safely in your checked luggage rather than your carry-on luggage. Here's what you need to know about traveling with your favorite foods.
Getty Images
The rules about what you can and can't bring on board depend largely on what you're bringing with you and whether you want to bring food on board or put it in checked luggage. Thankfully, the U.S. Transportation Security Administration (TSA) has an exhaustive list of what you're allowed and not allowed in your carry-on and checked bags. Here are some highlights of the rules.
TSA allows unlimited deli meats in both carry-on and checked bags. Be aware that TSA officers may ask you to remove leftover turkey, fish, or vegetables from your bag if they block other items in the X-ray machine.
Do you carry cream cheese or solid cheese? When it comes to the TSA screening process, it varies. While solid cheese is allowed, you cannot bring more than 3.4 ounces of cream cheese. For solid cheeses and cream cheeses, additional safety checks may be required.
Mashed Potatoes and Roasted Vegetables

Mashed potatoes and roasted vegetables are acceptable in both carry-on and checked luggage, as long as they are separated from any sauces or stews. If your vegetables do have liquid in them, you need to make sure it's 3.4 oz or less.
If you happen to have fresh or raw vegetables in your leftovers, you need to be even more careful. Passengers flying from Hawaii, Puerto Rico or the U.S. Virgin Islands to the continental U.S. will not be permitted to bring most fresh vegetables due to the risk of spreading invasive plant pests.
Baby food and formula are allowed in "reasonable quantities" when you bring them along with breast milk. You may need to remove these items from your bag so they can be checked separately.
pies and cakes

Good news for those with a sweet tooth: Both pies and cakes will pass through security. They may require additional screening.
Catch an early flight? Unfortunately, a fresh cup of coffee isn't allowed through a TSA checkpoint unless it's under 3.4 ounces. Coffee beans, on the other hand, can pass through security as ground or whole beans. However, you can take an empty travel mug through security and fill it up once you pass the checkpoint.
Generally, canned goods are allowed. However, TSA recommends putting them in checked luggage because some canned goods may be subject to additional screening because of their appearance on an X-ray machine or because they don't meet the 3-1-1 rule for liquids, gels and aerosols. Sol.
A limited amount (up to 1.3 gallons per passenger) of wine and other alcoholic beverages containing less than 70% alcohol is permitted in checked baggage and must be unopened and in the original retail packaging. Note that miniature bottles of wine or alcohol are allowed in carry-on luggage as long as they fit into a quart-sized bag. Remember, according to FAA regulations, passengers are not allowed to consume any alcohol on board unless the airline provides it.
If you're traveling across the country with leftovers, it only makes sense to keep them fresh while in transit. As long as the frozen ice packs are firm at the time of the security check, they can pass through the security check. If your ice pack is even partially melted or turned into slime, it fails inspection.
If you've ever thought about taking live lobsters on a plane, you'll be glad to know they can pass through security, but they must be transported in clear plastic spill-proof containers. However, you'll want to check with your airline beforehand to see if they allow lobster on board.
Knowing the rules and regulations of traveling with food is one thing, but you also need to make sure that all the goodies are properly sealed and won't leak into your luggage. We've rounded up some of our favorite reusable travel food containers to keep your leftovers safe and secure.
$13 Amazon $12
If all you plan to pack is a couple of turkey sandwiches, you don't need a cupboard full of reusable containers. Consider Stasher storage bags as a greener and sustainable alternative to single-use Ziploc-style plastic bags—it's one of our favorite eco-friendly food storage options.
Amazon $45
This multipurpose food storage container set is a game changer for traveling with leftovers. Not only is it completely clear so TSA officers can easily and instantly see what you're packing, but it's also made of high-quality glass and BPA-free plastic.
Amazon $45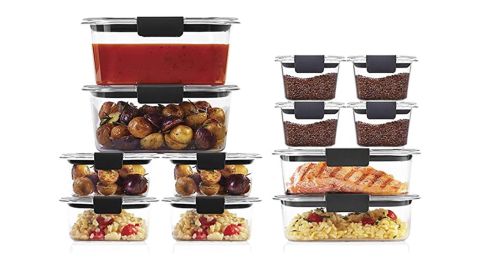 If you plan to bring back some leftovers, or if you want to check most of the items in your suitcase, you might want to consider using extra snaps. The Rubbermaid Brilliance Storage is 100% leak-proof, BPA-free and dishwasher safe.
$13 Amazon $9
This "twist and seal" food storage solution from Rubbermaid is a great choice for everything from small snacks and veggies to sauces and gravies. The leak-proof design mimics the design of child-safe pill bottles and won't loosen or open your bag.
Amazon $30
This pie tray from Sweet Creations is large enough to hold an entire patty and has a locking system for easy transport at airports and beyond.
Looking for a new credit card?Find out which cards CNN Underscored chose as ours best travel credit card.