A giant cane toad called 'Toadzilla' has been discovered in Australia.
The 2.7kg amphibian stunned rangers who came across it in North Queensland's Conwy National Park.
The Queensland Department of Environment and Science said rangers were clearing a trail when they spotted the toad.
Ranger Kylee Gray said her team were "stunned" by the "giant" cane toad, which weighed 2.7kg and was believed to be a female.
She told the ABC it was the largest toad she had ever come across and said it looked "almost like a football with legs".
"When we got back to the base later that afternoon, we weighed her and she weighed 2.7kg, which shocked us, absolutely shocked us," she said.
"We measured her and I think we got 255mm, but I'm sure the Queensland Museum will measure her when they receive it."
The Guinness World Record for the largest toad in history is 2.65 kg – set in 1991 by a pet toad in Sweden.
read more:
Bison rewilding in Kent gets boost as bulls join cow herd
Population of seal pups surges along Norfolk coast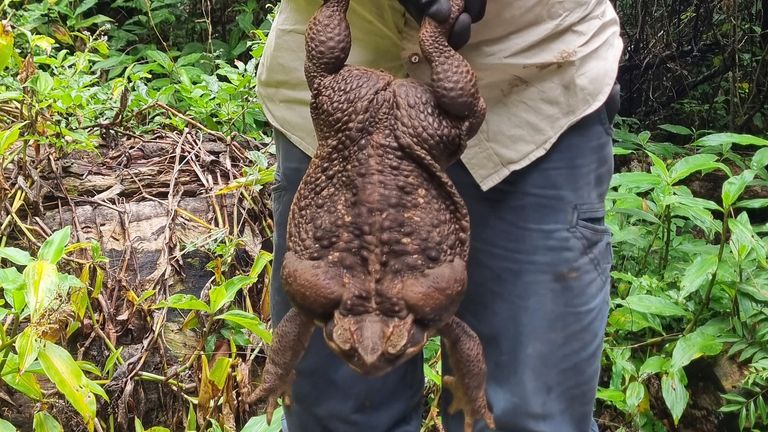 Ms Gray said rangers dubbed the toad "Toadzilla", adding that the museum would check to see if it was the largest toad ever found.
The cane toad is native to South and Central America and was introduced to Australia in 1935, according to WWF.
Toads primarily eat live insects, but will eat anything they swallow, including pet food and household waste.
Toads are one of Australia's most destructive pests, with an estimated population of over 2 billion.