Memphis police have released body camera footage showing the moment Tire Nichols called for his mother as he was beaten by five police officers before his death.
Throughout the attack, the footage shows officers brutally beating the 29-year-old FedEx employee for three minutes while yelling obscenities at him.
Police released four separate videos, edited into one-hour segments.
Memphis Police Chief Cerelyn Davis told reporters it came from "three different streams."
"It's three different sources: the body camera, you know the actual source of the scene where the worst physical abuse happened, and then two other body cameras from officers at the same scene," she said.
Ms Davies had earlier asked for calm before the footage was made public.
"I hope you feel what the Nichols family felt," she said. "I want you to be outraged by the disregard for basic human rights."
In the footage, a camera shows officers initially pulling over at an intersection in Memphis, Tennessee.
One officer can be heard saying: "I'm going to hit you with a baton (expletive)." His body camera showed him raising his baton, while at least one other officer held Mr Nichols.
After the co-pilot roughly pulled Mr Nichols out of the car, the FedEx employee could be heard saying "I didn't do anything" as a group of officers began pinning him to the ground.
"Get on the ground!" one officer yelled, while another was heard yelling, "Get him! Get him!"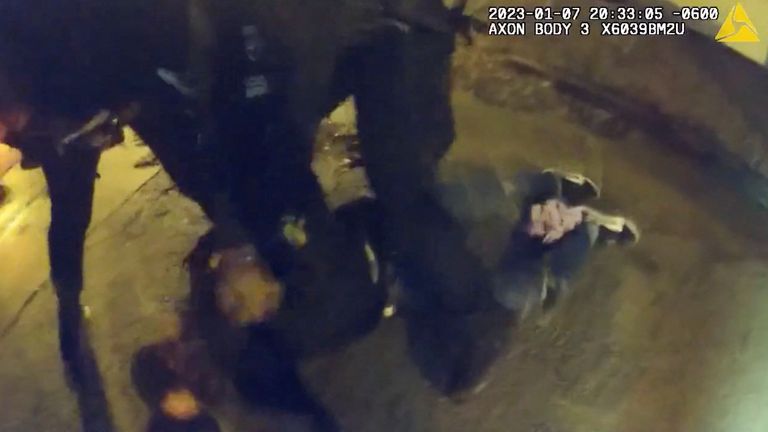 After being thrown onto the pavement, the father quickly and calmly replied: "Okay, I'm on the ground."
Moments later, as the officers continued to yell, Mr Nichols said: "Man, I'm on the ground."
"Put your hands behind your back before I break your (expletive)," one officer yelled.
Moments later, an officer yelled: "(expletive), put your hand behind your back before I break your hand."
"You guys are really doing a lot right now," Mr Nichols said loudly to the officers. "I just want to go home."
"Stop it, I'm not doing anything," he yelled after a moment.
Nichols heard voices calling for his mother as police attacked him
The camera is briefly blocked before Mr Nichols can be seen running as an officer fires a Taser at him. Police then began a hunt for Mr Nichols.
After the beating, officers circled around for several minutes while Mr Nichols leaned against the car before collapsing into the street.
In footage from one of the cameras, Mr Nichols can be heard yelling at his mother as police attacked him.
Mr Nichols was then pepper sprayed and punched in the face.
'Heinous, reckless and inhumane' attack
Ms Davies said police "had grown to about 10 people" during the initial stop.
She added that the officers were "aggressive, loud and used profanity and probably frightened Mr Nichols from the start".
"We knew something was going on before this officer or these officers got out of the car … just know the nature of an officer, it takes something to get them excited, you know, like that. We don't know what happened what, she said.
"What we do know is that the force used in these circumstances was disproportionate."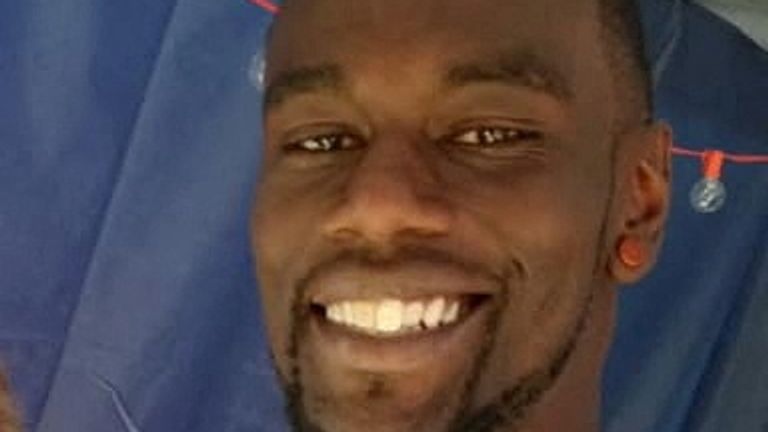 Ms Davis also described the police's actions as "outrageous, reckless and inhumane" and said her department could not substantiate the reckless driving charge that resulted in the stop.
Protesters say 'they killed a man who looked like me'
Protests have erupted in at least nine U.S. cities in the hours since the release of the body camera footage.
Mr Nichols' mother, Row Vaughn Wells, had earlier warned supporters of the "horrific" nature of the video but pleaded for peace, saying "tearing up the streets" was "not what my son stands for".
Demonstrations are taking place in Sacramento, California; Washington, D.C.; Atlanta, Georgia; Boston, Massachusetts; New York; Asheville, North Carolina; Philadelphia, Pennsylvania; and Providence, Rhode Island.
The demonstration organized by Black Lives Matter was also held in Memphis, Tennessee, where Mr Nichols was attacked.
Sky America's James Matthews, who was at the demonstration, asked a protester how she felt after seeing the video.
She responded: "It's heartbreaking, it's ugly. All I can say is it's heartbreaking."
One man who took part in the protest in Memphis told Sky News: "[The attack]was unprofessional, not like the police, I don't agree with that.
"That's why I'm here now. It makes me sick."
A second said: "I'm very sad about this situation and I'm praying for Tye Nichols' family. I'm very sad about this video, it's disturbing, they killed a man who looked like my people.
"It's hard being black in this country, we came here as slaves and it feels like slavery is still there and it feels like we can never get rid of it.
"It's hard being black, the traffic jams, going to the mall, you're being watched, you're being filmed.
"It's hard being black."
Meanwhile, New York City police arrested at least three people during protests near Times Square.
A police captain told NBC News that one arrest was for damaging a police vehicle, a second for beating an officer and a third for undisclosed reasons.
Police also recorded any damage to other vehicles as protesters drove through the cars. They also confiscated the bicycles of protesters who tried to prevent arrests.
Given the potential for protests, Ms. Davis told the ABC that she and other local officials decided it would be best to release the video later in the day, when schools had closed and people had gone home from get off work.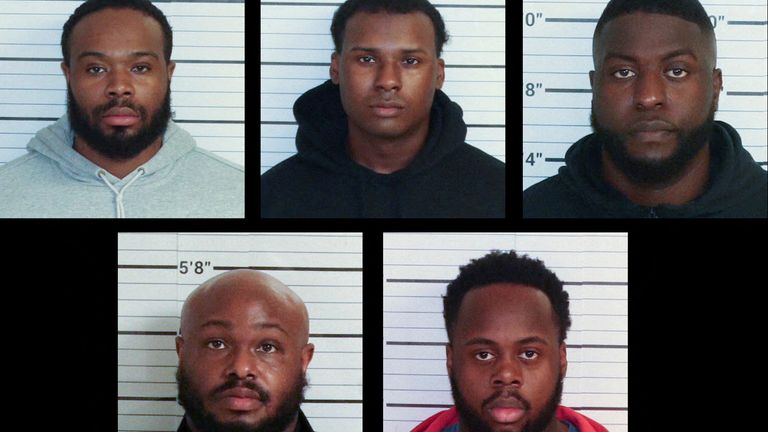 Biden says he's 'angry' and 'deeply pained'
New York Mayor Eric Adams, a former police officer, said he and other mayors across the country had been briefed by the White House before the video was released, which he said would "cause pain and sorrow for many of us. It will make us angry."
FBI Director Christopher Frey said he was "shocked" by the video and reminded all FBI field officers to work with state and local partners, including in Memphis, "in case something gets out of hand."
In a statement after the video was released, U.S. President Joe Biden said: "Like so many, I am outraged and pained to see the horrific video of the beating that resulted in the death of Till Nichols. This is yet another example of the profound impact Pain reminder. Black and brown people in America experience fear and trauma, pain and exhaustion every day.
"My heart goes out to the family of Tire Nichols and to Americans in Memphis and across the country who are grieving this enormous and painful loss."
He added: "Violence is never acceptable; it is illegal and destructive. I join Mr Nichols' family in calling for peaceful protest."
Tire Nichols' final words prompt us to ask important questions
Sometimes, there are no words.
Articulating the loss of a son can expand vocabulary at the best of times.
The family of Tire Nichols found themselves in the worst possible situation.
What words are there to express what it's like to have a son, your son, beaten to death on camera?
As hard as anyone could put in a press conference at the Mount of Olives Cathedral in Memphis, perhaps the job was best done by Tire himself.
At the end of the video, he can be heard calling for his mother three times.
This, a mummy boy with her name tattooed on his arm.
Those were his last words in the video, which shows him becoming limp, unconscious and in apparent pain.
He was surrounded by police and other medical experts who stood back rather than intervening.
His last words were a plea to someone he knew would help him, his mother, who lived three blocks from where he was beaten.
Tire's mother, Row Vaughn, didn't realize it until it appeared in the video. She only knows now because someone told her – she can't bring herself to look at the pictures.
"You don't know how I feel," she told a news conference when asked about her son calling out to her.
Of course we didn't.
But we are asked to consider our feelings – feelings of helplessness and inhumanity exacerbated by an adult crying desperately to his mother.
It helps the audience develop empathy and compassion, which are important in the need for change.
The case of Tire Nichols prompts us to ask important questions about American police culture.
Mr. Biden also said he had spoken to Mr. Nichols' mother and stepfather.
He continued: "There are no words to describe the heartbreak and grief of losing a beloved child and young father. Nothing will bring Mr. Nichols back to his family and the Memphis community. But Mr. Nichols' son Will The Erneses and his entire family deserve a prompt, full and transparent investigation."
Before it was made public, Mr Nichols' family said the "very horrific" footage, which their lawyers likened to the 1991 Los Angeles police attack on motorist Rodriguez, showed police brutally beating the FedEx employee for three minutes. Rodney King.
The five fired officers, all black, were charged with second-degree murder and other offenses in Mr Nichols' death, including battery, kidnapping, officer misconduct and officer oppression.
Their names are Demetrius Haley, Desmond Mills Jr., Emmett Martin III, Tadarius Bean and Justin Smith.
Martin's attorney, William Massey, and Mills' attorney, Blake Ballin, said their clients will not plead not guilty. Attorneys for Smith, Bean and Hayley could not be reached.