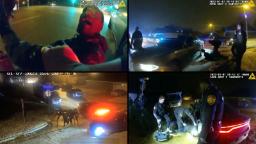 A Memphis Police Department spokesman confirmed to CNN that all five former officers charged in the beating of Tyre Nichols were members of the now-defunct Scorpion unit.
"The officers who were fired were members of Scorpion Unit," Maj. Karen Rudolph said in a statement Saturday.
Former officers Tadarrius Bean, Demetrius Haley, Justin Smith, Emmitt Martin and Desmond Mills Jr. have each been charged with second-degree murder, aggravated assault, two counts of aggravated kidnapping, two counts of misconduct in public office and one count of oppression in public office. For their actions during the violent arrest of Tire Nichols.
The Memphis Police Department announced earlier Saturday that it will permanently deactivate the SCORPION unit.
The Memphis mayor's office declined to comment on the move Saturday afternoon.
Some background: When the SCORPION unit — Street Crime Operations designed to restore peace to our neighborhoods — launched in 2021, it was hailed as a direct response to some of the city's worst crimes, with a focus on homicide, robbery, assault and other felonies.
The unit is used in targeted deployments, sending officers to areas where police are tracking an uptick in violent crime.
It faced heightened scrutiny after revelations of the involvement of officials in the department in Nichols' death emerged. The family's attorney, Antonio Romanucci, had called on Memphis police to immediately and permanently disband the unit.
You can read more about SCORPION here.