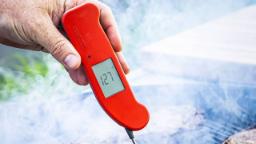 If you regularly cook meat at home, you know that a good meat thermometer can make all the difference. The Thermapen One won the title of best instant-read thermometer in our tests, and it's now being sold in like-new condition.
Over the course of a month, we ran a series of tests on 13 different meat thermometers to determine which ones would make you a meat guru and which ones you should skip. This trusted ThermoWorks model beats other models due to its speed and accuracy. The backlit display is easy to read, and holding the thermometer digits vertically automatically adjusts its orientation. Additionally, the hinged probe provides easy ergonomics.
Our top pick for the best instant-read meat thermometer is now $30 off during this unboxing special. These discounted thermometers work like new and come with a full warranty.
read our review
The Thermapen One is the fastest and most accurate thermometer we've tested, with the easiest-to-read display. These discounted thermometers are in limited quantities, so grab one before they all run out.