A group of college students in China have created a remote kissing device for people in long-distance relationships.
The 3D silicone gadget has a mouth-shaped module that is triggered by a kiss and then transfers to the "mouth" on the other side.
It uses sensors to simulate kissing motion, temperature and pressure, and connects to your phone via Bluetooth and an app.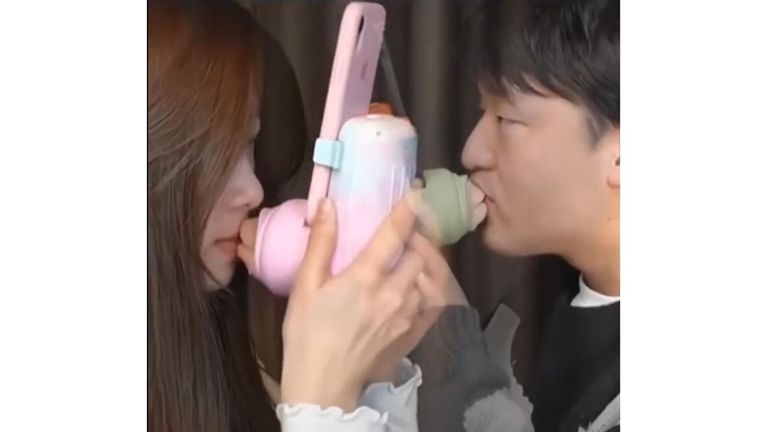 The device, invented by a group of university students in China, has been criticized on social media.
Some users called the device "weird", while others found humor in it, saying it made them "believe that having a long-distance relationship is a really bad idea".
According to the state-run Global Times, the invention has been patented by the Changzhou Vocational College of Mechanical and Electrical Technology.
"In my university, my girlfriend and I were in a long-distance relationship, so we could only communicate by phone," Jiang Zhongli, the main inventor of the device, told the Global Times.
"That's where the inspiration for the device came from."
read more:
European Commission bans TikTok from mobile phones amid cyber attack fears
Is the UK ready for a smarter, leaner, silicon-clad future?
According to CNN, a feature in the app allows users to anonymously pair up with strangers in "kissing squares," meaning users can upload their kisses for others to download and experience.
In 2016, The Gadget Show launched the kissing app "Kissenger" – a sensory stimulation technology that simulates a real kiss through a touchpad, similar to the latest invention.
In 2016 the team created an iOS prototype that plugs into the phone's headphone jack and is triggered by pressure applied to the device.
"It's kind of weird how it actually moves, how the pressure moves," says Amy Williams from The Gadget Show.
"And then you feel some kind of pressure on your lips."