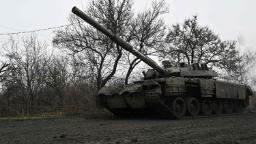 Ukraine as a whole has been traumatized since Russia's invasion last year, according to Ukraine's deputy foreign minister, Emine Dzhaparova.
Dzhaparova told CNN's Christiane Amanpour in Kiev that she believes "a long recovery process will happen after the war is resolved," but added that "at this stage of the war, it's still a matter of survival, so we need to survive physically." Come down, and then we can talk about mental recovery."
"You never know how it's triggered," Dzhaparova said of the mental toll of war. "I can say for myself, for example, that for the first time since the war began I allowed myself to cry. – Within two weeks of my suitcase being shipped from Kiev to the west of our country and the invasion had officially begun, I was just — you know — — This happened the moment I touched my clothes and pants because I couldn't afford anything because of the curfew and martial law. All the shops were closed."
The deputy minister told CNN she has only seen her two daughters abroad three times since the invasion.
According to Dzhaparova, the four main battlegrounds were Lyman, Mariinka, Avdiivka and Bakhmut.
The situation in Bahmut "remains dire," she said.
"How it turns out is still a question, but I can tell you for sure that the Ukrainian Armed Forces have proven what they are capable of. Although we can hear some questions and voices that the Russians may achieve their goal in Bakhmut, I think , in order not to let that happen, we have to follow several elements, which is to deliver the required weapons, not only the ammunition, but also the systems and casings of the artillery that we really desperately need."
About 17 percent of Ukrainian land "remains under occupation," down from what she said was 20 percent when the invasion began.