The Phantom of the Opera is no longer in New York – after a record-breaking 35 years on Broadway, it bows for the last time.
The show, about a disfigured ghost who haunts the Paris Opera and falls in love with a singer there, was Broadway's longest-running show, ending its final performance with a standing ovation and golden confetti.
Current and former cast members joined writer Andrew Lloyd Webber and his producing collaborator Cameron McIntosh on stage for a reprise of "Music in the Night" at the end of Sunday's final show in New York .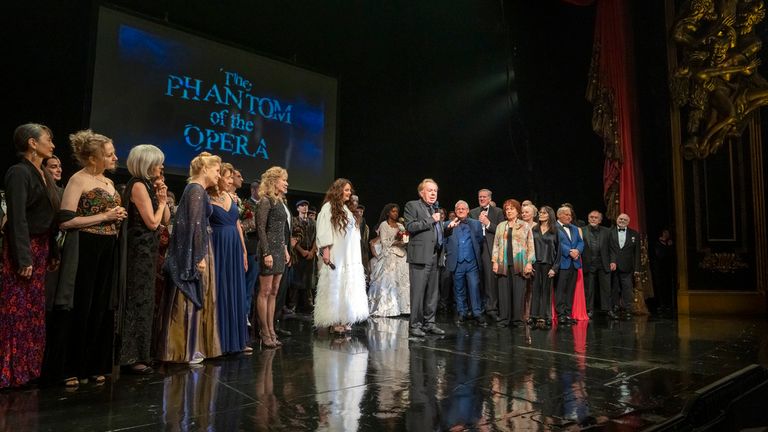 Lloyd Webber addressed the audience at the Majestic Theatre, filled with the greatness and beauty of the theatrical world, and dedicated his final performance to his son Nick, who died of cancer Turned 43 last month.
"He heard some of this music when he was a little boy," he said.
Sarah Brightman, ex-wife of the original Kristen and Lloyd Webb, added: "Andrew was there when he wrote the book. So his son was with us. Nick, we love you so much."
Macintosh responded to rumors that the show might return in the future, saying: "A question I get asked all the time – will the Phantom return?
"As a producer for over 55 years, I've seen all the great musicals come back, and The Phantom is one of the greatest.
"So it's just a matter of time."
The show also featured video demos from previous cast members, while the booth was filled with ex-Phantoms, Christines and Raouls, as well as Glenn Close and Lin-Manuel Miranda, among others.
By closing time, the show had run 13,981 performances.
Lloyd Webber said on Saturday that the show "could" cost around £800,000 a week, with a large orchestra and cast, as well as elaborate costumes and sets, driving up costs.
The 75-year-old added that, unlike the Macintosh, he didn't know if he would ever return to New York, saying he was "just a composer."
Closing gave Lloyd Webber a show on Broadway—his updated work or the hastily closed West End musical "Cinderella"now called Bad Cinderella.
Chicago now holds the title of Broadway's longest-running show, followed closely by Disney's The Lion King.
The Phantom of the Opera is still running at Her Majesty's Theatre, in the West End, which will be renamed in honor of the King over coronation weekend to reflect the image of the new monarch.