A BMX rider performs stunts on a floating skatepark more than 2,000 feet (610 meters) above the ground.
Kriss Kyle, 31, described it as a "once-in-a-lifetime opportunity".
The British rider pulled off the world-first stunt called 'Don't Bow' when he rode a custom bowl suspended by a hot air balloon.
Hot Air Balloon Departs from Charlton Park Estate Wiltshire Fly approximately 30 miles over the Cotswolds before landing.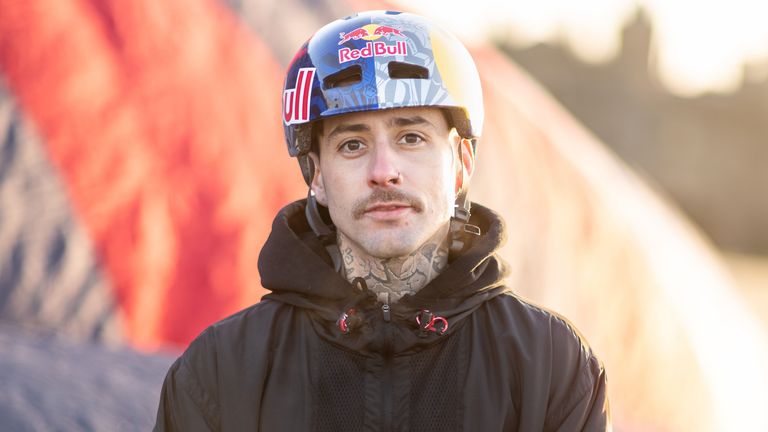 Kyle performed several highly technical BMX tricks in a short space of time in February, and accomplished the feat while wearing a parachute and contending in a constantly swinging bowl.
Red Bull athlete, Stranraer from Dumfries and Galloway, Scotlandhas been competing in professional BMX events since 2008.
He said: "I went straight to the edge, looked at it and thought, 'This is a once-in-a-lifetime opportunity'.
"While riding that little bike, I kept thinking, 'This is the one I'm going to take to my grave'."
Kyle said the idea for a floating skate park came to him while he was locking up his dog for mountain biking, and he told his manager at Red Bull about the idea.
He added: "It's pretty much the same as I go into every project – if you want it bad enough, just keep imagining it and you can make it happen.
"Nobody's ever really done anything like this, and it's a big kit. It's actually registered as an airplane, which is crazy."
Flying requires very specific weather conditions, including winds below three miles per hour.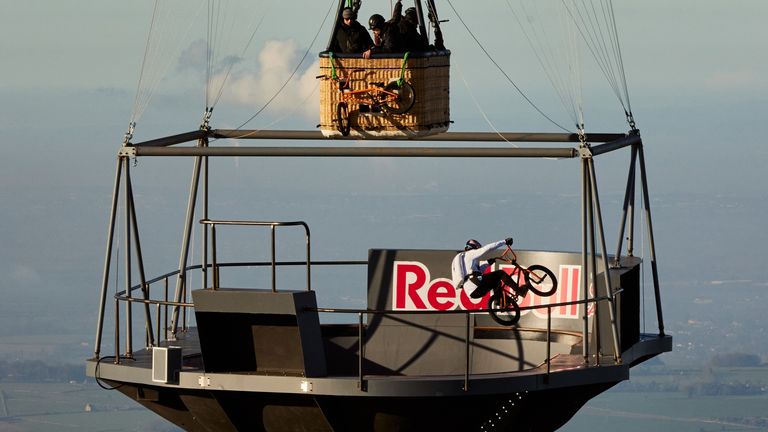 read more:
British skateboarder Sky Brown becomes world champion at 14
Red Bull Racing engineers needed to use fewer traditional materials to make the bowl, making it lighter and buoyant enough to float above its 1.6-tonne weight.
Rob Gray, technical director at Red Bull Advanced Technologies, said: "The original wooden bowl was a prototype – they built that bowl to check that Kriss could ride it and define the shape they wanted.
"Our whole focus is actually to save weight. For that we use carbon fibre, the same material we use to build our Formula 1 cars."
Kyle, who has worked on previous high-profile projects including Kaleidoscope and Out of Season, said his latest project is "absolutely" one of his best, adding: "It was an amazing experience from start to finish." Incredible experience."
He said his next stunt, which will be filmed in Switzerland, is set to begin filming in October.