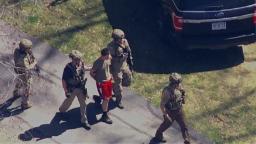 Attorney General Merrick Garland announced Thursday that Jack Teixeira, a 21-year-old member of the Massachusetts Air National Guard, is in the custody of federal agents and charged with "the alleged unauthorized removal, retention and transmission of classified defense information."
While there is currently no indication that Teixeira is suspected of leaking classified documents at the behest of or under the control of a foreign power, an investigation into a major U.S. espionage case involving suspects with varying motives has found that the government's ability to prevent infiltration is seriously insufficient.
In the case of convicted CIA spy Aldrich Ames, congressional investigators slammed the agency's ability to handle questions about Ames' suitability, including "drunkness, disregard for security protocols and sloppy handling of administrative demands." .
After Robert Hansen's treachery came to light, investigators learned he had full access to FBI and State Department computer systems and would spend hours trawling the web for classified information that went undiscovered. In his 25 years at the bureau, Hansen had access to highly sensitive sources and methods about U.S. intelligence efforts against the Soviet Union and Russia, so he never took a polygraph test.
In the wake of the Ames and Hanssen cases, the CIA and FBI moved to step up what they called an insider threat program aimed at regularly assessing threats by closely scrutinizing the finances and travel of those with access to classified information and increasing the use of polygraphs. Protect the continued loyalty and fitness of state classified employees.
Despite heightened precautions by intelligence agencies such as the FBI and CIA, the Defense Department, which employs much of the U.S. intelligence community, remains highly vulnerable and will almost certainly be held accountable by oversight investigators following the latest disclosures.
While little is known about Teixeira's clearance level and his U.S. government background checks, a major DoD concern is the frequency and intensity with which counterintelligence officials continually vet employees for access to information.
read more.