A one-year-old Australian Shepherd has returned to his Alaskan owners after being separated for more than a month in an epic adventure across 150 miles (240km) of frozen Bering Sea ice that includes an encounter with a mysterious animal conflict.
Nanuq owner Mandy Iworrigan, who lives in Gambell on St. Lawrence Island in the Bering Strait, and her family were visiting Savoogna, another community on the island, last month.
While they were there, Nanuq disappeared along with the family's other dog, Starlight, the Anchorage Daily News reported.
A few weeks later, Starlight appeared, but Nanook's whereabouts remained unknown.
A month after Nanuq (meaning polar bear in Siberian Yupik) disappeared, people in the town of Welsh in mainland Alaska began posting photos of a lost dog online.
Wales is approximately 150 miles (240 km) northeast of Savogna, across the Bering Sea.
"My dad texted me and said, 'There's a dog in Wales that looks like Nanook,'" Ms Evorigan said.
She checked the photo on Facebook and was shocked to find it was her stray terrier.
read more:
Dog injured after rescuing sheep from coyote pack
Hero dog who helped track down terror suspect honored
Dog thrown from truck at 50mph in Kent
"I was like, 'No fucking' way! That's our dog! What is he doing in Wales?" she said.
"I don't know why he ended up in Wales. It could be that the ice changed while he was hunting," Ms Iworrigan said. "I'm pretty sure he ate seal leftovers or caught a seal. Possibly birds. He ate our local food. He was smart."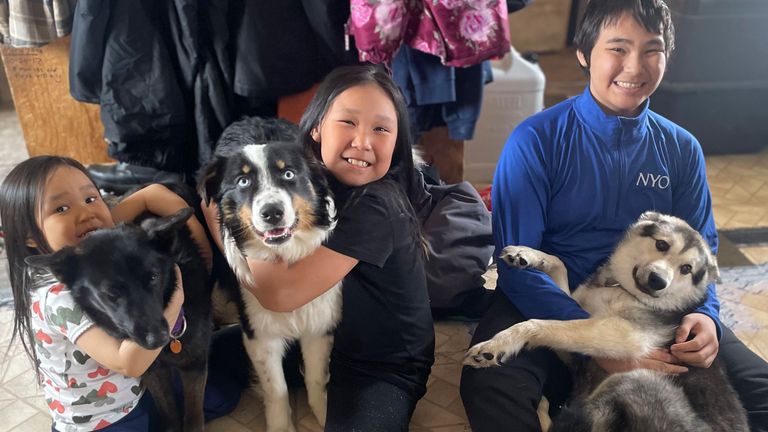 Ms Iworrigan and her daughter Brooklyn squealed with delight as they took the airline back to Gambell's regional airline point last week and filmed the happy reunion as the plane landed at the Savoonga airstrip.
During his mysterious adventure, Nanuq apparently encountered a predator, as he was found with a large bite mark on the swollen leg of an unidentified animal.
"The wolverine, the seal, the little Nanook…we don't know because it's like a bite," she said.