The most detailed images of Mars' moon Deimos have been released after the probe flew just 100 kilometers (62 miles) above its surface.
"Unprecedented" high-resolution image courtesy of United Arab Emirates During a series of flybys, the space agency included glimpses of regions on the far side of the Moon that had never been viewed in such detail before.
The moon – described by NASA as "small and massive" – ​​takes 30 hours to orbit Mars And it's only nine miles (15 kilometers) long.
The flyby images are part of the UAE's wider Emirates Mars Mission (EMM), which aims to study the Red Planet.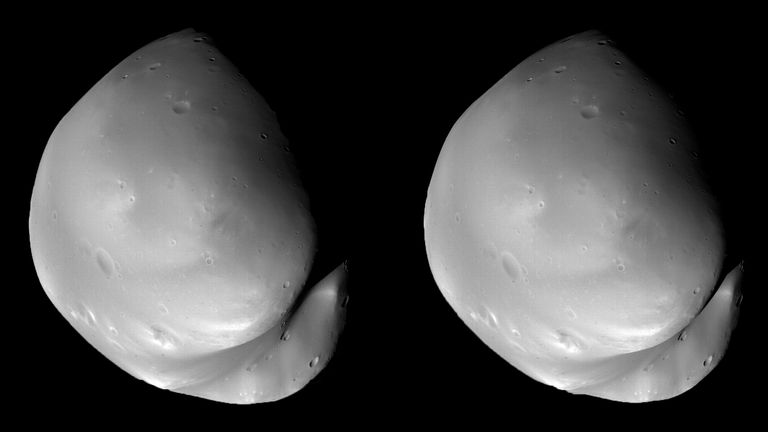 It is one of a string of countries that have planned or launched research missions to Mars in recent years, including Chinathis us and an alliance European countries.
Mars has two moons, including the larger moon Phobos, but scientists have limited knowledge of them.
The researchers hope that these images, along with other data collected by the rover — including ultraviolet observations of rocky outcrops and estimates of their surface temperatures — will help to learn more about the moon, and Mars more broadly.
EMM's science lead, Hessa Al Matroushi, said the findings challenge long-held theories that Phobos and Deimos were originally asteroids captured by the gravity of Mars, and their features suggest they may have planetary origins.
"Exactly how they got into their current orbit is also an area of ​​active research, so any new information we can gain about these two moons, especially the rarely observed Deimos, could potentially unlock that," she said. New information about Mars' moons.
"So far, our close observations of Deimos point to a planetary origin."
read more:
NASA's new Mars map lets you explore the planet yourself
New images of Uranus could solve mysteries about the planet
The probe has been flying past Deimos since January and came within 100 kilometers (62 miles) of its surface last month.
The UAE space agency described the new images as "unprecedented" and confirmed that the EMM will continue for another year.
The mission aims to join other studies to build the first comprehensive picture of the Martian climate for the entire Martian year.