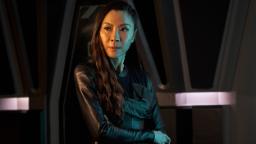 CNN
—

Long life and prosperity, Michelle Yeoh.
After winning a Best Actress Oscar for her role in "Everything at the Same Time" last month, Young is preparing to return to the Star Trek universe, reprising her role as Philippa in the new "Star Trek: Section 31" film. The role of Emperor Georgiou.
Yeoh debuted as a character in 2017, when the Emmy-winning TV series Star Trek: Discovery debuted on Paramount+.
Paramount+ and CBS Studios announced the news on Tuesday. Yeoh will also serve as an executive producer on the project.
In a press release, Yeoh said she was "incredibly excited" to be in a "Section 31" movie again, saying "it's been close to my heart since I started my journey playing Philippa"'Star Trek ' A new golden age has begun. "
"Seeing her finally get her moment was a dream come true of the year and it showed me the incredible power of never giving up on a dream. We can't wait to share what we have in store for you until then: Longevity and Prosperity" unless Emperor Giorgio decrees otherwise)," she continued.
It was indeed a dream come true year for Yeoh, who made history in March by becoming the first woman of Asian descent to win an Academy Award for Best Actress. "Everything at the Same Time" picked up seven Oscars that night, including Young's Grand Prix and Best Picture.
According to an official synopsis, "Section 31" will feature Yeoh's character as she joins a secret division of Starfleet and is "on a mission to protect the Federation of Planets and face the evils of her past."
Production on Star Trek: Episode 31 begins later this year.