Low oxygen levels have been blamed for massive fish kills in Australia's second longest river.
Video showed hundreds of thousands of silvery bodies covering the surface of the Darling River near the town of Menindee in remote New South Wales, about 620 miles (1,000 kilometers) west of Sydney.
Authorities said the deaths were due to falling "dissolved oxygen levels" and state fisheries officials had been dispatched to assess the situation, with the decomposing carcasses giving residents a stench of decay.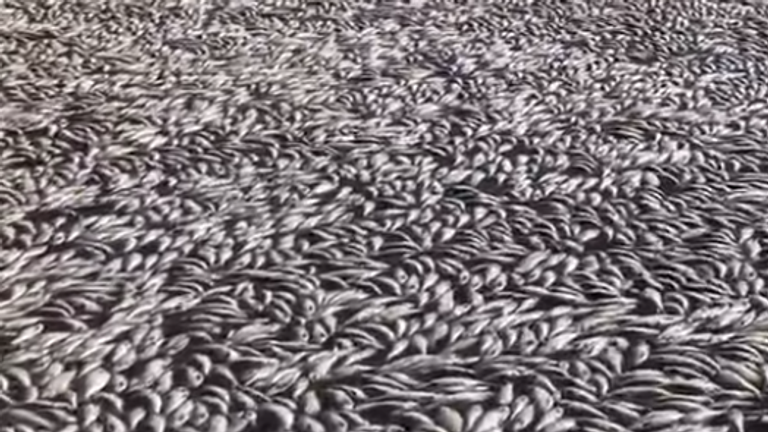 This follows mass fish kills in the same area in 2018 and 2019 due to poor water quality and sudden temperature changes.
Oxygen levels in rivers could drop further this weekend if temperatures rise, the national planning and environment agency has warned, before cooler weather hits next week.
The NSW Department of Planning and Environment's water division tweeted: "Dissolved oxygen levels continue to be an issue for fish health.
"The Darling River between Loch Wetherell and the town of Menindee has seen significant fish kills (mainly bony herring)."
Read more environmental stories:
More than 500,000 trees die alongside a 21-mile highway
Golf course's walking group battle plan 'will traverse John o'Groats Trail'
The NSW Department of Primary Industries (DPI) said it would continue to monitor risks to fish health in the region.
"As water temperatures increase, the amount of dissolved oxygen that the water can hold decreases, adding additional stress to fish that may already be struggling," it said.