Police body camera footage showed the shooter killing five colleagues at a Louisville bank as officers confronted a gunman.
Connor Sturgeon, 25, shot dead by police raid on old state bank Monday morning in Kentucky.
Among the eight wounded were two patrol officers who responded to the gunfire, including one who was hit in the head by a bullet.
Sturgeon live-streamed the attack on social media.
On Tuesday, police released video footage from police body cameras.
In the video, the officer wearing a camera can be heard saying he was approaching the bank from the east.
Broken glass could be seen on the pavement before gunshots were heard and the officer appeared to be on the ground.
He then ran down a few steps back into the street and hid.
In other footage, the body camera of an officer named Corey Galloway is shown sitting in the building after rookie officer Nickolas Wilt was shot in the head Outside behind the stairs.
He waited, and as other officers arrived, more gunfire was heard and Officer Galloway opened fire – before yelling that he thought the attacker was down.
Louisville Metro Police Deputy Chief Paul Humphrey said the video showed Mr. Galloway "continuing to remain in the fight and trying to accurately assess" the assailant "trying to get a clear picture" of the attacker after he received light gunshot wounds on the radio.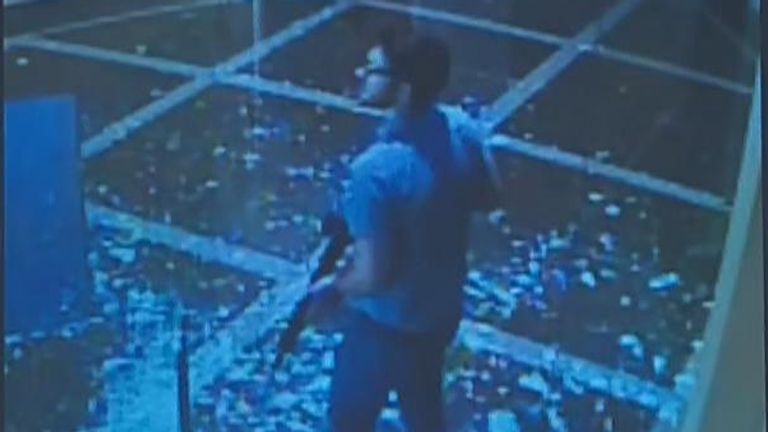 Mr Humphrey showed reporters edited footage and still photos.
A still image from surveillance video showed the gunman holding a rifle inside the building surrounded by broken glass.
He set up an ambush position to attack officers when they arrived, police said.
Police Chief Jacquelyn Gwinn-Villaroel said they approached Sturgeon "without fear" to stop his rampage.
"The heroism of yesterday cannot be overemphasized. They did what they were asked to do. They answered the call to protect and to serve," she told reporters.
Mr Wilt, who completed training less than two weeks ago, was in critical but stable condition after being shot in the head, according to hospital officials.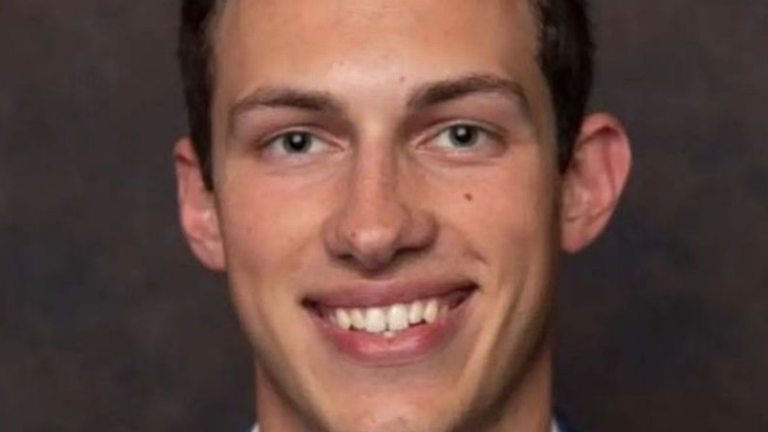 Gunshots heard in Louisville footage

Ms Gwinn-Villaroel said the AR-15-style assault rifle used in the massacre was purchased legally from a local dealer on April 4.
Louisville Mayor Craig Greenberg criticized the state law for meaning the weapons would be sold at auction.
"The assault rifle that was used to murder five of our neighbors and shoot the police is going to be auctioned off one day," he said.
"Think about it. Under current Kentucky law, murder weapons will one day be back on the streets."
'Evil act of sexual violence' – mayor

Police Chief Ms Gwinn-Villaroel did not provide a motive for the shooter but said they had never dealt with him before.
The victims were Joshua Barrick, 40, Deanna Eckert, 57, Thomas Elliott, 63, Juliana Farmer, 45, and James Tutt, 64.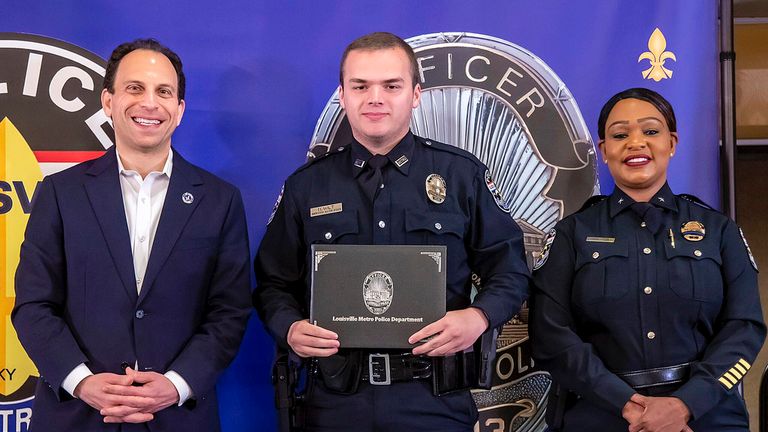 Dr. Jason Smith, chief medical officer at the University of Louisville Health Center, was emotional in an interview with the media, saying he was "tired" of having to treat so many gun victims.
"There are only so many times you can walk into a room and tell someone they're not coming home tomorrow," he said.
"When you hear someone screaming 'mummy' or 'dad,' it just breaks your heart."
'I had a very close friend who didn't make it' – Governor

Kentucky Governor Andy Beshear said one of the dead, Thomas Elliott, was a close friend of his who helped him "become governor and gave me advice on being a good father."
"He's one of the people I talk to the most in the world, we rarely talk about my work. He's an incredible friend," he said.
The louisville incident came two weeks later Three children and three staff were killed There was a mass shooting at a school in Nashville, Tennessee, about 160 miles to the south.