An ancient sarcophagus has been returned to Egypt from a US museum after authorities determined it was looted.
The nearly three-meter (9.5-foot) sarcophagus was housed at the Houston Museum of Natural Science in Texas until Egyptian authorities recovered it as part of a government effort to stop the smuggling of stolen artifacts.
In 2021, Cairo authorities managed to return 5,300 stolen artifacts from around the world to Egypt.
According to Mostafa Waziri of the Supreme Council of Antiquities, the sarcophagus dates to the late dynastic era of ancient Egypt, which lasted from 664 BC to 332 BC, under the conquests of Alexander the Great.
While some of the inscriptions on it have been erased, Mr Waziri believes the sarcophagus may have belonged to an ancient priest named Ankhenmaat.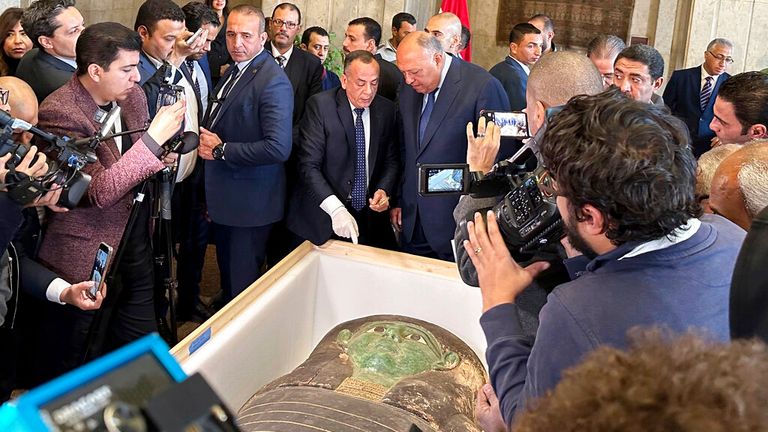 U.S. Chargé d'affaires in Egypt Daniel Rubinstein symbolically handed over the artifact in a ceremony in Cairo on Monday, three months after the Manhattan District Attorney's office determined it had been recovered from the Abu Sir cemetery north of Cairo. Predatory.
"This stunning casket was trafficked by a well-organized network that looted countless antiquities from the area," Manhattan District Attorney Alvin L Bragg said at the time.
"We are delighted that this item will be returned to Egypt, where it belongs."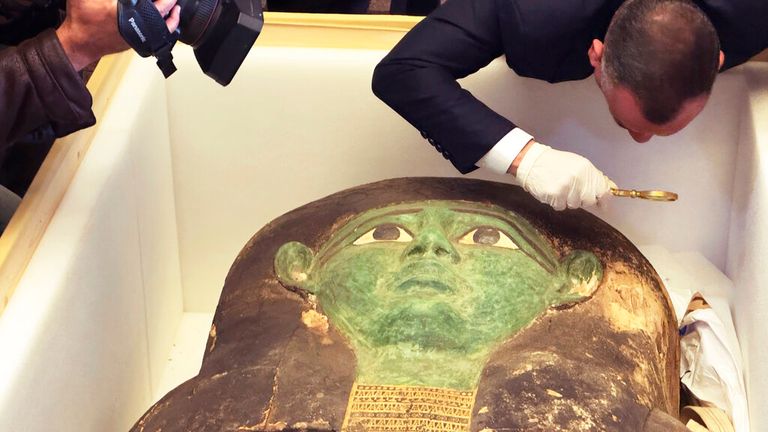 Around the same time in 2008, he added, criminal networks smuggled a gold-plated coffin that was sold at the Met in New York after it was bought for $4 million (£3.3 million) in 2017 from a Parisian art dealer. Museum exhibit.
The coffin was shipped back to Egypt in 2019.