Joe Biden says he's 'not really Irish' because he's 'never drank' – and jokes that his relatives in Ireland 'are not actually in prison'.
The US president, whose family emigrated from Ireland in the mid-1800s, has been celebrating St. Patrick's Day at the White House with guests including Taoiseach Leo Varadkar and One Direction singer Niall Horan, who performed at the event.
The 80-year-old told the crowd: "When I went to Ireland it was a great experience. I've been to Ireland a lot but not to really look up – to find my real family.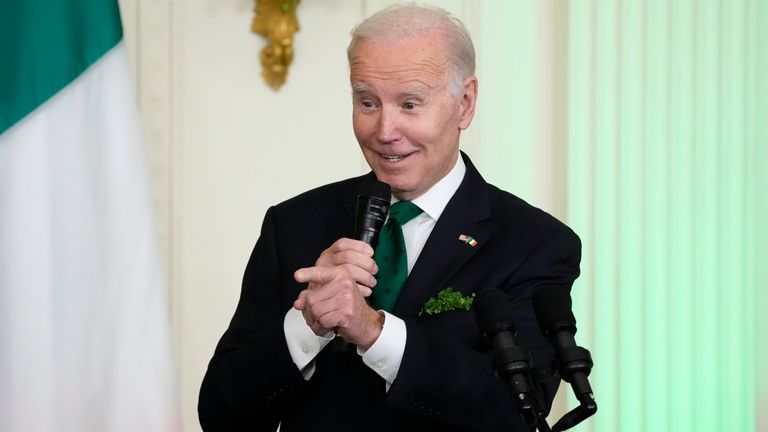 "And there are many — and they're not actually in prison."
Mr Biden said he spent six days in Ireland with some of his relatives.
Recalling his stay, he added: "There was also a place called Finnegan's Pub … which was associated with my family.
"I'm the only Irishman you'll ever meet, though, who's never had a drink, so I'm fine. I'm not really Irish."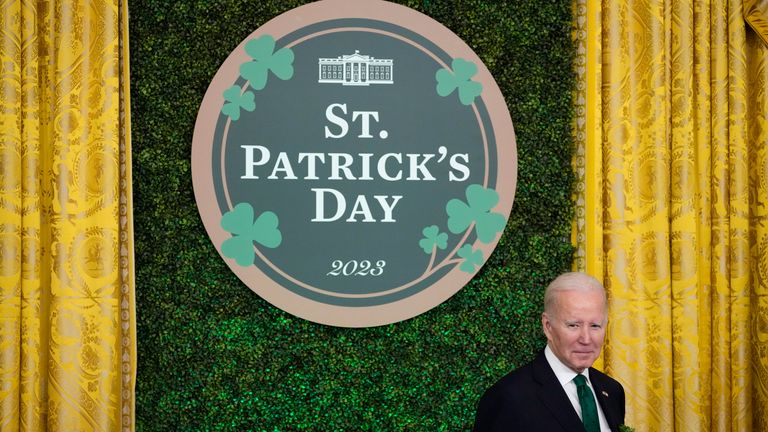 The joke didn't end there, as Biden singled out his distant cousin, former Irish rugby union player Rob Kearney, ahead of Saturday's Ireland-England game, saying: "We all know we're playing in the Grand Slams. who to support in the
He also told Horan he could "come back anytime" after praising his performance.
Mr Biden also appeared in an Instagram video in which the music star wished everyone a "Happy St. Patrick's Day".
Friday's event was the first St. Patrick's Day celebration at the White House. Coronavirus Pandemic.
The White House fountains flow with water dyed green for the occasion, ahead of Mr Biden's much-anticipated trip to Northern Ireland on April 25.
read more:
Biden says he 'strongly supports' Windsor framework as he hosts Leo Varadkar
Leo Varadkar meets Joe Biden for St. Patrick's Day talks
No matter where you get the podcast, you can click to subscribe to Sky News Daily
In his St. Patrick's Day speech, Mr Biden also said he "strongly supports" the windsor frame post-Brexit arrangements and spoke of the upcoming 25th anniversary of the Good Friday Agreement.
He was also given a bowl of shamrocks as part of the ceremony, which was attended by the leaders of Northern Ireland's five main political parties.