Eight police officers who shot and killed an unarmed man 46 times have been cleared of charges.
Jayland Walker, a 25-year-old black man, was killed during a car chase in Akron, Ohiolast June.
His death sparked protests in the city after police release body camera lens It is shown that he was killed by a hail of bullets.
A grand jury declined to indict the officers today, Ohio Attorney General Dave Yost announced.
New protests are expected in Akron following the grand jury decision.
Police said he refused to pull over when they tried to pull him over after a traffic violation.
They also said Mr Walker fired the first shot and then another from his car 40 seconds after the pursuit.
Police chased the car on motorways and city streets until Mr Walker jumped out of the still-moving car.
Body camera video showed him ignoring police orders to stop and running into a car park before being killed while wearing a ski mask.
Authorities said he represented a "deadly threat". A handgun, a loaded magazine and a wedding ring were found in the driver's seat of his car.
The police union said officers believed there was an immediate threat of serious injury and that they were behaving in accordance with their training and protocols.
Body camera footage of police chasing and shooting Jayland Walker

Mr Yost said Mr Walker fired at the officers at least once from his car and then, after jumping out of the car, he ignored orders to stop and put his hands up.
"There is no doubt that he did shoot the police," he added.
Mr Walker reached for his belt as the police gave chase and raised their hands. Mr Yost said the officers were unaware he had left the gun in the car and thought he had fired at them again.
Mr Yost said it was important to remember that Mr Walker had fired at police officers and that he "shot first".
The police chased him for about 10 seconds, and then the police fired from multiple directions in a series of shots that lasted six or seven seconds.
The eight officers, who did not want to be named on the condition of anonymity, were initially placed on furlough but returned to executive duties three and a half months after the shooting.
A county coroner said Mr. Walker was shot 46 times. The autopsy report also said no illicit drugs or alcohol were detected in his system.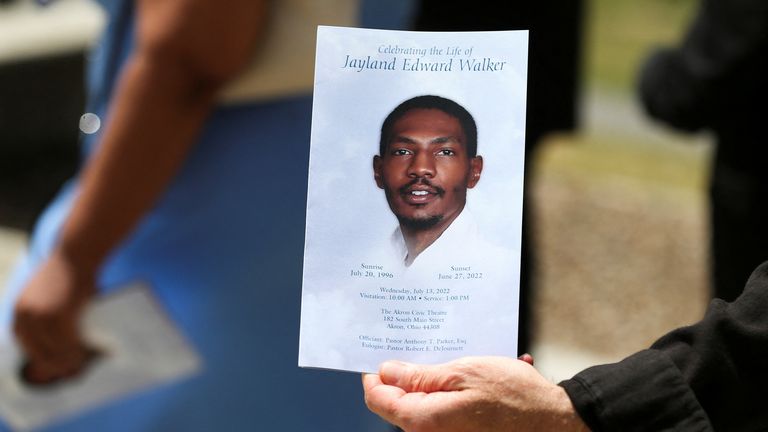 Walker's death received widespread attention from activists, including the family of civil rights leader Martin Luther King Jr.
The National Association for the Advancement of Colored People (NAACP) and an attorney for Mr. Walker's family called on the Justice Department to open a federal civil rights investigation.
President Joe Biden responded when he visited Ohio last summer that the department was monitoring the case.
Less than 24 hours before the pursuit, police in the neighboring town of New Franklin attempted to stop a car matching Mr Walker, also for an unspecified minor traffic violation.
When the car crossed the town's border with Akron, a supervisor there called off the pursuit.
Mr Walker's family described it as a brutal and senseless shooting of a man who was unarmed at the time and whose fiancée had recently died.