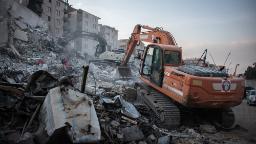 Israeli search and rescue group United Hatzalah will leave Turkey after a six-day stay on the ground due to a "significant security threat" against the group, it was announced Sunday.
United Hatzalah CEO Eli Pollack and vice president of operations Dov Maisel said in a statement that they had "received intelligence regarding a specific and immediate threat to the Israeli delegation, and we must prioritize the safety of our personnel."
"We knew there was a level of risk in sending our team to this part of Turkey close to the Syrian border, but for the sake of our life-saving mission, we took the necessary steps to mitigate the threat," Messer said.
The decision follows a "joint situation assessment with world leaders [Israel Defense Forces] Rear Command and Search and Rescue Forces occurred on Saturday night," they said.
Because of the speed at which the group left and the "lack of available aircraft," Miriam Adelson, widow of the late U.S. Republican big donor Sheldon Adelson, donated her private jet to facilitate the return of the group on Sunday. Israel.
"We are very proud of what our team has achieved in just a few days, assisting in the rescue of 15 people in cooperation with the IDF Rear Command, the Israeli Search and Rescue Force, local rescue forces and the Turkish Red Cross," Messer explain. "I want to thank Dr. Adelson for helping us bring our men back quickly and safely."
A second Israeli aid organization, IsraAid, continues its activities in Turkey.
CNN has reached out to Turkey's IDF team to see if it, too, will be leaving.