Whether you're traveling to a remote location or abroad, clean water isn't always guaranteed. Yes, you can buy bottled water if you're in a different country, but even better is carrying a bottle that can filter water from almost any fresh water source in the world.
There are a few bottles with integrated filters on the market, including the LifeStraw Peak line of bottles we've reviewed in the past. But when we heard that HydraPak — a brand known for its high-performance outdoor water storage products — was making a collapsible bottle with a built-in filter, we knew we had to try it.
We got our hands on the new HydraPak Flux+ 1.5L to give it a try, and after a few weeks of testing we found a few things we didn't like, but there was still a lot we liked.
It's not perfect, but this collapsible bottle has an incredible flow rate and durable finish, making it a standout on the market for built-in filter bottles. It's hard to keep clean, especially in the long run, which prevents it from being a really good choice.
Collapsible water bottles with integrated filters seem to be a growing trend in the outdoor industry, and we couldn't be more excited about it. Carrying a fully self-contained filtration system can be a hassle in remote locations, and these all-in-one water bottles are perfect for drinking clean water not only in nature, but also while traveling.
HydraPak Flux+ 1.5L has all the benefits you would expect from a bottle of this type. It's extremely collapsible, its filter lets you drink from almost any source, and it's designed to be as small and light as possible.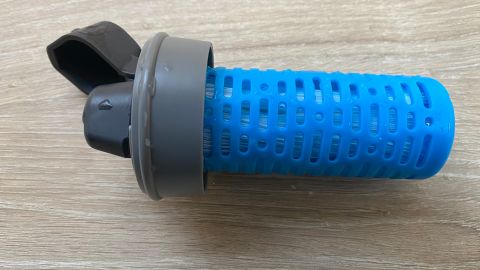 This is HydraPak's first foray into filtration, but don't worry: the filtration technology is up to par. According to HydraPak, the filter is a single stage, smaller than 0.2 micron hollow fiber filter that removes 99.9999% of common waterborne bacteria, 99.999% of parasitic cysts per EPA guideline standards and NSF P231, larger per NSF 42 Removes 99.999% of microplastics greater than or equal to 3.0 microns in size. This is the same percentage of parasitic cysts and microplastic filters as the LifeStraw Peak Series Collapsible Water Bottle; however, LifeStraw removes more bacteria, at 99.999999%.
To test the filter, we filled a bottle with a bunch of dirt, then filtered the water into a clean glass. Not a bit of dirt got through the filter; however, it still had a slightly earthy smell (similar to the LifeStraw). The biggest surprise, though, was how good the flow rate of the HydraPak Flux+ was. We've used other water filters before, including the LifeStraw Peak line of water bottles and the Sawyer Squeeze, but the HydraPak has the fastest flow rate of any filter we've tested. This means drinking from a bottle is much easier and actually feels like drinking from a regular bottle.
The flow rate of the bottle is not only fast, but also steady. In our filtration tests, most filters slow down as soon as soil clogs the filter. Not so with the HydraPak. It maintains a super high flow even after filtering multiple bottles of extremely dirty water.
In addition to its speed and efficiency, we really like how small the HydraPak Flux+ can be made. It will shrink to the size of a softball, and if you remove the filter, it will flatten even more. There is a loop at the top of the bottle that not only clips the bottle to your backpack, but also folds down to keep the bottle compact. Although, when the filter is in the bottle, it's hard to make a ring around the whole bottle. For this reason, we want the loop to be slightly larger or have some extension.
The bottle can be packed very small which helps it fit in any bag, but when it's full the HydraPak Flux+ has an impressive 1.5 liter capacity. In testing, we really liked the size, as it's larger than a standard water bottle without feeling bulky.
Another important aspect of the HydraPak is its material and overall shape. It has a completely flat bottom, which means it can actually stand up on its own when the bottle is full (but only when). The material also feels much thicker to the touch than the LifeStraw bottle we tested, which developed a small hole after a few months. We will continue to use the HydraPak bottle and squeeze water through it to keep this post updated with any durability concerns.
There's a lot we love about the HydraPak Flux+, but there's also a few things we don't. We think the biggest problem is that you can't backwash the filter. Most other filters have some sort of syringe so you can push clean water back into a clogged filter, cleaning it and helping it maintain its peak flow rate. The 42mm filter for the HydraPak Flux+ does not have this option.
To clean it, HydraPak recommends immersing the filter in clean water and shaking it around to loosen and remove any debris. After our filter test, we did, but after shaking the filter for 10+ rounds, some dirt still came off. In the short term, this is an annoying and time-consuming process, but with no way to quickly and efficiently remove all debris, the long-term flow rate of the filter does not seem promising. HydraPak says the filter should be changed after one year or after 1,500 liters of water has been filtered, depending on the water quality. In comparison, LifeStraw says its filters have a lifespan of 2,000 litres.
The filter itself is difficult to clean, and the bottle itself is no walk in the park. Unfortunately, you can't throw it in the dishwasher, but you can easily scrub the interior with a bottle brush.
One last thing we would like to point out is that the HydraPak Flux+ lid can be difficult to open. You're supposed to flip it open and twist, but the lip on the lid is tiny and it takes a lot of force to open, especially when it's brand new.
The HydraPak Flux+ is very similar to the LifeStraw Peak line of collapsible bottles, but we prefer the HydraPak's option. The filter probably won't last long since you can't backwash it, but we think the LifeStraw's lack of durability really holds it back. The Katadyn also has a collapsible water bottle that we haven't tested yet, but it's known for its excellent flow rate.
If you don't want to deal with the downside of an all-in-one bottle, you can mix and match your filters and reservoirs to find the perfect pair. There are several options, including the HydraPak's new 28mm filter — the size that fits a standard plastic water bottle — which is a direct competitor to other filters that have long been popular in the backpacking community, such as the Sawyer Squeeze. There are other 42mm filter sizes like the Katadyn BeFree, and you can even use the HydraPak's plug and play adapter to connect the 42mm reservoir to the 28mm filter. However, we still haven't found a Goldilocks bottle that packs everything into one neat package so you can skip all the research.
HydraPak's Flux+ 1.5 liter water bottle has a high flow rate and is made of thick and durable materials. We wish its filter was easier to clean and maintain, but overall it's a solid choice in the collapsible bottle scene. If you don't want to analyze different reservoirs and filters and want a one-size-fits-all bottle, and you don't mind changing the filter cap every once in a while, the HydraPak Flux+ is a great choice.