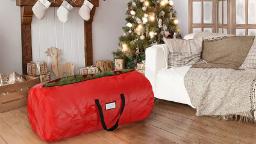 As the holiday season draws to a close, one dreaded chore still looms: Put away all the holiday decorations. Kate Pawlowski and Ann Lightfoot, professional organizers and authors of "Loving Your Home Again," know that picking up and tidying up the decorations at the end of the holidays can be overwhelming. Very troublesome.
"Our best advice is to be mindful and think of your future self when you put away your decorations at the end of the season," they say. "You think you'll remember where you put your velvet pumpkins and holiday wreaths, But we guarantee that after a year, if you haven't stored your stuff properly, you'll be searching your storage area with frustration and anxiety."
To help you with the task of packing all those holiday decorations and other seasonal items, we asked storage and organization experts for their top tips for safely packing, storing and labeling everything from holiday lights to heirlooms and more.
"It's crucial to store your decorations properly," says Ryane Montanez, senior director of marketing and creative at mDesign, "so you don't get them damaged, rusted, or faded." She recommends this storage box with a lid, which comes with dividers. Dividers to keep ornaments neatly separated and a reinforced exterior to keep ornaments from cracking.
"If you're planning to buy bins," Lightfoot and Pawlowski say, "we recommend clear, waterproof bins with locking lids to ensure your precious items stay safe year after year."
"However, if you already have colored trash cans, a great identification system is colored masking tape," Lightfoot and Pawlowski said. "Use orange for Halloween, red for Christmas, and blue for Hanukkah so you can easily pick out seasonal-specific decorations from the rest."
"An easy way to keep your holiday decorations organized is with storage containers that are perfect for individual holidays," says Montanez. mDesign's buffalo plaid holiday set also includes a matching tree bag and wreath stand.
"The clear containers make it easy to see what holiday decorations are inside," says Montanez, "and these bins are stackable, which saves closet or attic space."
"To make things easier, bins made specifically for decorations can be helpful," say Lightfoot and Pawlowski. They love these clear plastic bins because the hinged lids are stackable and easily removed .
Cases designed for storing ornaments come in all shapes and sizes, such as this cube, which can hold up to 64 ornaments in each compartment.
The experts we spoke to emphasized finding sturdy storage with protection for fragile items like decorations.
"One of our favorite tips at Gladiator," says Blake Bancroft, Brand Manager for Gladiator GarageWorks at Whirlpool Corporation, "is to get your gear off the ground and give it a permanent solution. When it comes to storing holiday decorations, there's nothing wrong with Keep vacation gear out of sight and out of your mind before you need it."
To avoid what Lightfoot and Pawlowski call "shoveling an impossible bunch into a box" when storing holiday string lights, buy light shafts and light stands. "You can easily roll up an entire light or extension cord," they say, "and unroll it effortlessly."
For a stackable light storage solution, this lidded box with three spools for winding holiday string lights is a great option.
"The most efficient way to store holiday lights," says Montanez, "is to wrap them in paper towels or cardboard so they don't crack or get damaged." Wrapped lights can be stored in boxes with other holiday decorations.
Inexpensive spools designed for holiday light storage are a great way to organize things on a budget. This light stand is super easy—just wrap string lights around it and store it with the rest of your holiday gear.
Storing Artificial Trees, Wreaths, and Wreaths

This extra-large storage bag can hold an artificial tree, rolls of wrapping paper, lengths of garland, and tons of other big, bulky or oddly shaped holiday items. It has handles for easy transport from room to storage.
If you're looking for a matching holiday storage set, the Wreath Storage Bag from mDesign can also be used to hold coiled wreaths and comes in buffalo check to coordinate with tree bags and ornament organizers.
Particularly fragile garlands—including those with easily damaged glass ornaments—are safe in this heavy-duty latching plastic garland storage container.
How to Store Delicate Items and Heirlooms

The experts we spoke to all emphasized the importance of labeling your holiday storage boxes so you can easily determine what's inside. This is especially important when storing delicate or irreplaceable items, as the labels remind you to take extra care when removing heirlooms from storage.
Before putting delicate or highly prized items, such as heirlooms, into storage bins, it's important to use protective packaging, Montanez says. "Bubble wrap, bubble wrap, peanut paper, stretch wrap, or wrapping paper," she says, "help keep valuables and heirlooms safe when not in use."
Who says wrapping materials have to be boring? ! These plant-based, biodegradable Christmas tree-shaped wrapping peanuts bring some whimsy and fun to putting together holiday decorations.
"Our best advice for any delicate item," say Lightfoot and Pawlowski, "whether it's a family candle holder or grandma's crystal candy dish, is to use a lot of wrapping." They prefer bubble wrap with less bubbles, Because it fits better into nooks and crannies and provides a more secure fit. "And don't skimp on empty space in boxes or litter boxes," they add. "Make sure the item itself is wrapped securely, then use more bubble wrap or wrapping paper to make sure fragile items don't move around."
When storing candlesticks or kinaras, first wrap them in protective packaging. "It's important to store candlesticks and kinaras first in soft paper and then in a resealable bag to keep the pieces from tarnishing," says Montanez. "Once in the bag, the candlesticks and kinaras should be placed in plastic bins for extra protection."
Honeycomb wrapping paper can be used to wrap delicate items, including glass or ceramic holiday items, before placing them in storage boxes for an added layer of sturdy protection.
Fine or delicate textiles such as holiday tablecloths or handmade decorations should be wrapped in acid-free archival paper before going into storage bins to help keep them from yellowing and keep out pests.
When storing large outdoor holiday decorations, such as inflatables or electronic toys, Lightfoot and Pawlowski say, "We recommend that if you bring them in from the outside, make sure you wipe them down, deflate any inflatables, and Store them in large boxes or wrap them in clear contractor bags to keep them clean until next year."
When it comes to storing large outdoor holiday decorations, "things can get tricky," says Bancroft, "simply because the decorations are often very light but large! We recommend using an overhead storage system for these bulky items, And in a strong and safe place."
Many bags designed specifically for storing artificial trees also do double duty as protective storage options for inflatables.
Tips and Tricks for Storing Holiday Decorations

The experts we interviewed also offer some general tips and tricks, as well as things to avoid when it comes to unpacking, packing and storing holiday decorations.
have a central storage area: "A common mistake people make is storing everything in different places in the home instead of one," says Bancroft. "Having a dedicated area in your garage for holiday gear will make it easier to find your favorite ornaments, lights, and other decorations."
Create zones: "We often see people stocking holiday decorations by type," says Montanes, "rather than by room." She recommends sorting holiday items into categories. "With zones," she says, "you can organize similar items together—like lights with accents and baking ingredients with plates, and so on."
Vertical thinking: "People often think about floor or wall storage but don't realize how much vertical space they have, which can be maximized by adding overhead storage in the garage," Bancroft said.
Don't forget the tags: "People also tend to forget to label their bins and rely on one type or size of storage bins, making it more difficult to figure out what's in each bin," Montanez said.
Upgrade your labeling system: "We propose detailed labeling using a numerical system," Lightfoot and Pawlowski said. "For example, instead of just 'Fall', take the time to write down 'Fall Velvet Pumpkin 1/10' so you know not only what's in the bin, but also how much you still need to get out of the pantry a trash can."
Create new traditions: "If possible," say Lightfoot and Pawlowski, "try to make putting decorations away as much a tradition as pulling them out. Of course, it's not as exciting as the holidays are over and you seem to have seen elves on bookshelves It's been years, but taking the time to carefully pack and label everything for next year will only make each holiday easier and the future happier."