Gwyneth Paltrow "slammed so hard" on a fellow skier that he hit him directly in the back, leaving him face-down in the snow "spreading wide," a US court has heard ".
The 50-year-old Hollywood actress has been accused of "dangerous" and "reckless" behavior before "running wild" down the slope without a word as she faces claims she died in 2016.
The movie star, who is also a lifestyle influencer, allegedly skied "out of control" and hit the retired optometrist at Utah's Deer Valley resort during a family vacation. He sued her for $300,000 (£245,000).
She rejected that, with her lawyer calling Mr Sanderson's account of events "complete bullshit".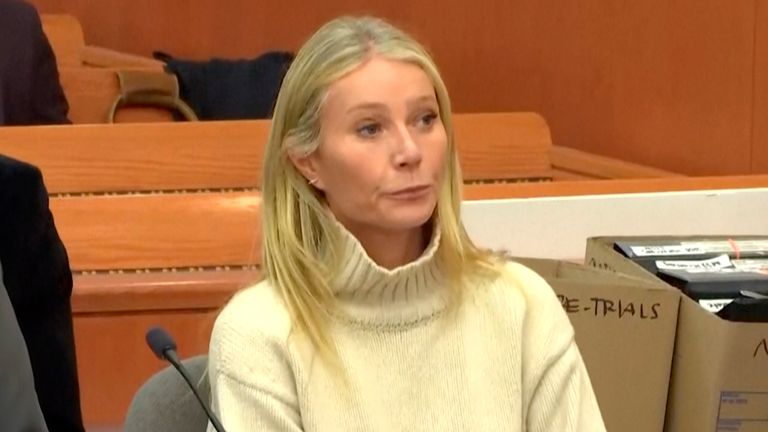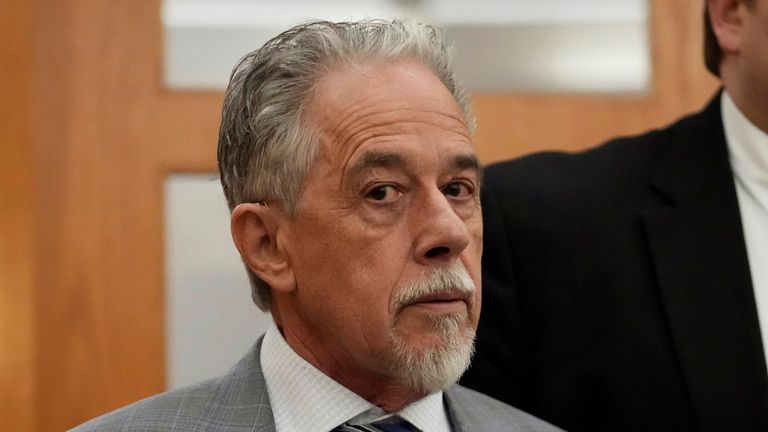 The lawsuit claims Paltrow Ramped into him, "knocked him down with force, knocked him down and caused serious injuries including brain damage and four fractured ribs".
"Paltrow stood up, turned and slid away, leaving Sanderson lying stunned in the snow," it added.
However, the actress' legal team told jurors that Mr Sanderson, 76, was the one who hit her – a collision in which she suffered what they called a "full body blow".
The first witness to appear in court on opening day was Craig Gramon, Mr Sanderson's skiing partner and "acquaintance", who he said was the only other person present when the collision occurred. He was about 11 meters (35 feet) away.
Mr Ramon said: "We were skiing down the piste and then I heard this yelling, this screaming and I looked… and then I saw this skier [Paltrow] Just slammed into Terry's back.
"She hit him hard. She hit him straight in the back and his skis broke and he fell face down, so he sort of spread his arms and Gwyneth was on top of him… bounced off and slid about Five minutes or 10 feet."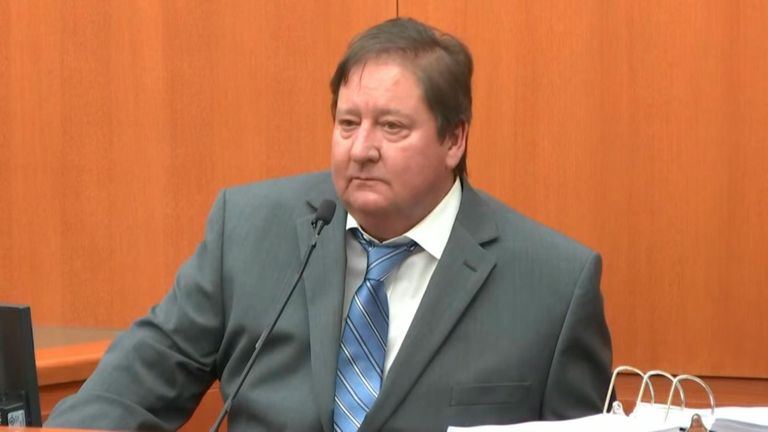 Paltrow, an Oscar-winning actress known for her roles in Shakespeare in Love and Marvel's Iron Man films, claimed Mr Sanderson was actually to blame for the collision and had been exaggerating his injuries And try to take advantage of her fame and fortune.
The American star appeared in a cream turtleneck jumper and brown trousers as the case began in the Utah ski town of Park City.
Mr Ramon said he had asked Mr Sanderson and Mr Paltrow if they were okay.
"Terry didn't move, his face was buried in the snow … his helmet was stuck in the snow. [Paltrow] Just looking at me, I asked her again. She got up soon… [but] She never said a word," he said.
Ski instructor 'yelled at' Mr Sanderson
The ski instructor, later identified as Eric Christiansen, then arrived and started "yelling at" Mr Sanderson, Mr Ramon said.
He said Paltrow then "ran off" down the hill.
Mr Ramon added that Paltrow did not provide her name or contact information and did not ask Mr Sanderson if he was injured or needed help.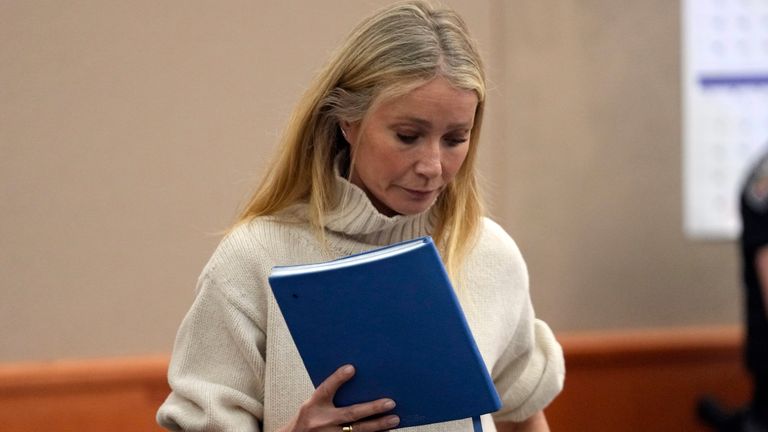 Mr. Sanderson's representative, Lawrence Bueller, told jurors that Paltrow's behavior on the hill in 2016 was "reckless" and he accused her of "willingly ignoring others on the hill".
Mr Buhler claimed she "knew it was dangerous to look up the hill and the side while skiing down the hill".
The defense is seeking up to $3,276,000 (£2,688,000) in damages, according to Mr Buller.
Who went further downhill?
On ski slopes, Utah law gives downhill skiers the right of way, and a central issue in the case was who was further down the beginners' slope at the time of the collision.
Both Mr Paltrow and Mr Sanderson claimed they were heading further downhill when another person hit them, causing their skis to become entangled and the pair to roll over together.
defense case
Paltrow's legal team insists Mr Sanderson was the one who hit her.
Her lawyer, Steve Owens, called Mr Sanderson's account of what happened during the incident "complete nonsense".
He also said members of Paltrow's group checked on Mr. Sanderson, who assured them he was fine — an interaction Mr. Sanderson did not deny but said in court documents he did not recall.
Mr Owens added that Paltrow told her daughter that "some jerk" hit her and that she "went crazy" afterward and chose to finish skiing for the day.
Mr. Sanderson accused Deer Valley and its employees of engaging in a "cover-up" by failing to provide complete information on incident reports and failing to comply with the resort's safety policies.
Mr Sanderson Paltrow sued for the first time in 2019seeking $3.1m (£2.5m) in damages before the claim was dropped.
Read more from Sky News:
Bruce Willis celebrates 68th birthday after dementia diagnosis
Harry Potter actor dies after collapse outside King's Cross station
actress Counterclaim for a nominal $1saying that Mr. Sanderson caused the accident.
Paltrow claimed she was shocked by the crash, adding that Mr Sanderson apologized to her and said he was fine.
The trial is scheduled to last eight days.