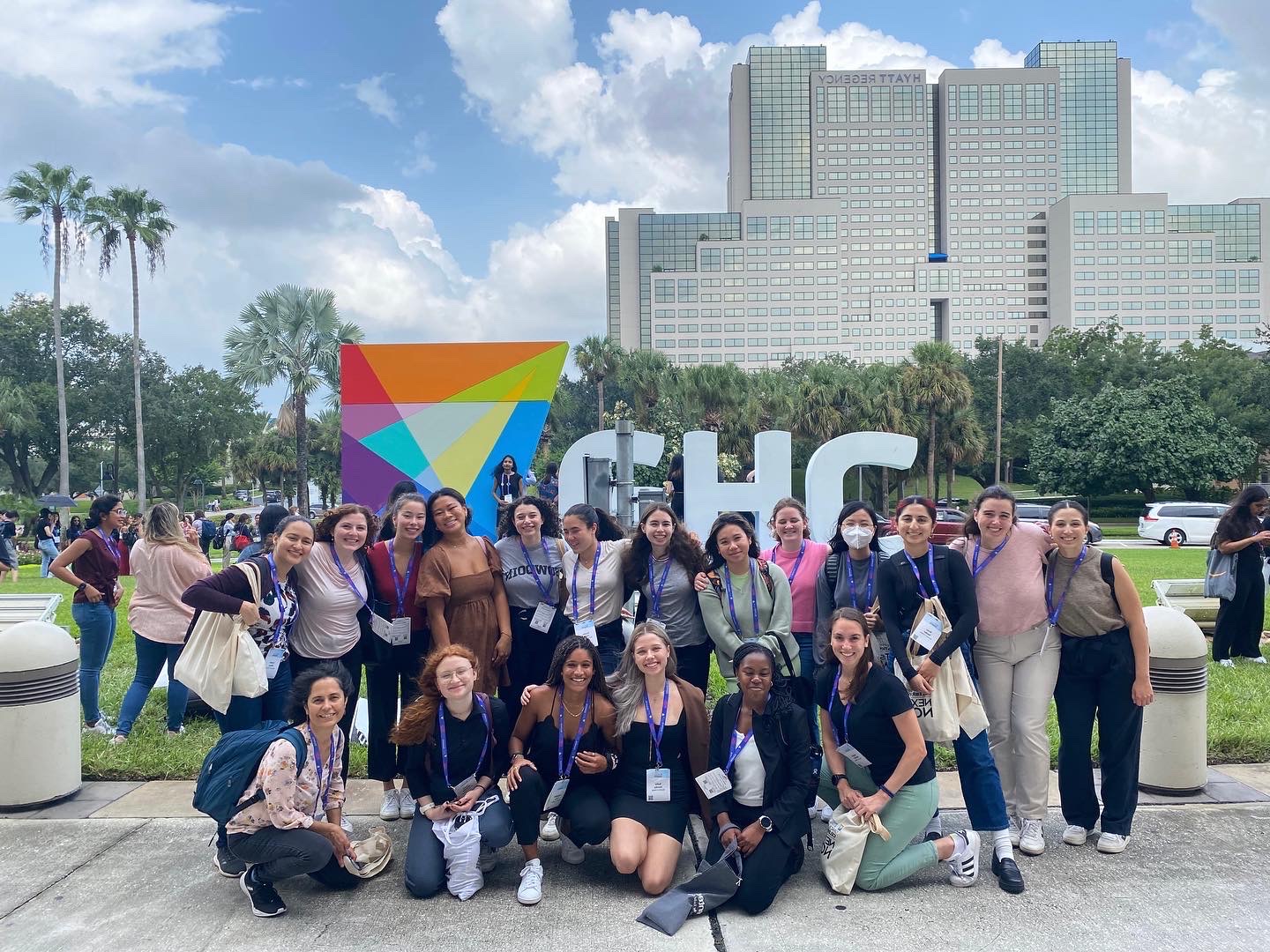 Staff and students from Bowdoin's Women in Computer Science (BWiCS) attended the Grace Hopper Celebration (GHC) in Orlando, Florida, from September 20-23. Early career support and exploration for college students from around the world.
The conference is organized by the Anita Borg Institute for Women and Technology and the Association for Computing Machinery (ACM). The conference's namesake, Grace Hopper, was a technological revolutionist and one of the first women to earn a PhD in mathematics. Bowdoin students have the opportunity to participate in BWiCS' alumni giving.
Laura Toma, professor and chair of computer science, reviews the conference and its unique mission.
"This is very important for the development of computer science as a department because currently, only 25 percent of computer science course and degree participants are women," Toma said.
GHC's mission is to multiply that number. With more than 20,000 attendees, the conference created an opportunity for networking among students and members from various technical fields.
Sophie Lipset '24, a math and computer science double major who attended GHC, thanked the conference for helping demystify her career path.
"[The conference] Gave me a clearer picture of where I wanted to go," Lipset said. "I also learned that getting into tech is very difficult, but attending conferences made it less intimidating. "
mes A new panel of speakers – from the tech world and beyond – who are a source of empowerment for young women and non-binary individuals. This year's conference invited panelists including Megan Rapinoe, a member of the U.S. women's national soccer team and New York Times bestselling author; Dr. Anita Hill, Chair of the Hollywood Council and Professor of Law at Brandeis University; Frances Haugen, a data scientist and Facebook breach whistleblower. Thomas was particularly moved by Haugen's words.
"[Haugen was] Exciting and inspiring…her message is "We can [create] change," Thomas said.
Toma shares how the meeting affirmed her identity—often overlooked in a male-dominated field.
"We can change the future — now is the time," Thomas said. "GHC reaffirms my mission to advocate for more computer science resources at Bowdoin."
Lipset spoke about the conference's ability to foster a culture of empowerment for gender minorities in the tech world.
"I was ultimately inspired by everything around me, and talking to women in many different fields reinforced the idea that I wanted to work in tech," Lipset said. "In fact, mainly women [at the conference] Makes talking to people so easy. You can walk up to the people in line and start a conversation with anyone. "
Abby Mueller '24, who majored in computer science with Lipset, echoes that feeling of affirmation and hopes to recreate it among her peers.
"Participating in the conference with so many women from Bowdoin inspired me to better understand Bowdoin women in computer science," Mueller said.
Future students interested in attending GHC can register for the conference at AnitaB.org in July and can apply for scholarships starting in March. Bowdoin provides funding when needed to those who do not receive scholarships.
Emma Kilbride contributed to this report.