A funeral is often a sad and somber event where a grieving person says goodbye to a loved friend or relative who has passed away.
However, the wake in Ecuador took an unexpected turn when a woman who was declared dead began knocking on her coffin to show she was alive.
Bizarre events in the central city of Babajoyo have prompted a government investigation into the hospital where Bella Montoya was treated.
Mrs Montoya, a 76-year-old former nurse, was lifted from her coffin and returned to the hospital after Friday's unfinished funeral.
Her son, Gilberto Barbera, was relieved but shocked, saying: "It took us all by surprise."
He added: "There were about 20 people there … about five hours after waking up, the coffin started making noises.
"My mum, wrapped in a sheet, was knocking on the coffin and as we got closer we could see her panting."
Mr Barbera said doctors told him his mother was still doing badly.
Ms. Montaya was in intensive care on Monday at the Martin Icaza Hospital in Babahoyo, Ecuador's health ministry said, while it was investigating doctors involved in her case.
A technical committee has also been formed to review how hospitals issue death certificates, the ministry added.
read more:
British girl shot dead after 'gardening dispute'
Countries file torture complaints against Syria
Berlusconi's most controversial moment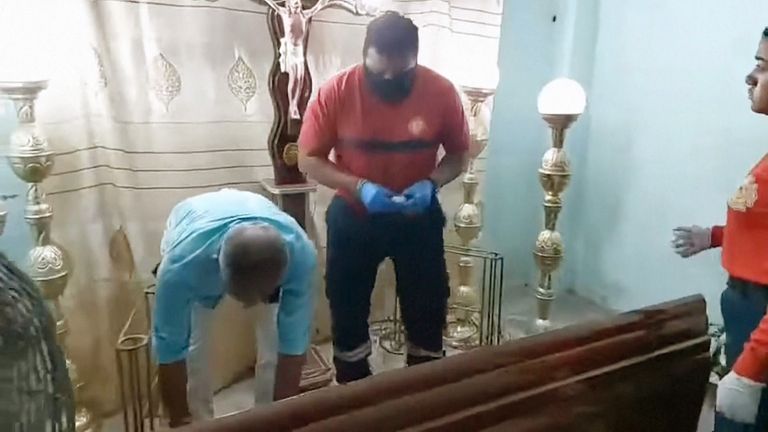 Mrs Montoya was initially admitted to hospital on Friday with a possible stroke and cardiopulmonary arrest.
She was pronounced dead when she did not respond to resuscitation, the health ministry added.
Mr. Barbera said his mother was taken to the emergency room unconscious and was informed hours later that she had died.
Doctors then handed over identification documents and a death certificate.
Mr Barbera said Ms Montoya was now being intubated and doctors were not very hopeful about her prognosis.
Details about the doctor who pre-announced the woman's death have not been released.