The Contractors Licensing Board and the Contractors Education Trust (CETF) have made a $300,000 donation to the Louisiana Tech College of Engineering and Science.
The National Architectural Engineering Technology Program Contractors Licensing Board donated $280,511.46 in voluntary funds to Louisiana Tech's Architectural Engineering Technology Program. CETF donated $19,488.54.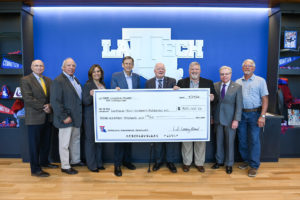 "These donations help us fund equipment and networking opportunities that prepare students to be successful contractors and project leaders," said Hisham Hegab, dean of the School of Engineering and Science. "We are grateful to the Contractors Licensing Board, the Contractors Education Trust, and the many professionals in Louisiana who volunteer to pay these fees each year. Their generosity has a direct impact on our students, enabling the Construction Engineering Technology program to combine field trips, conferences and the latest equipment into the curriculum."
Donations to the Architectural Engineering Technology Program will be used in a variety of ways to help provide innovative education for students. Funding will be used for student activities, conference travel, laboratory and measurement equipment, laboratory renovations and upgrades, and faculty support.
Louisiana Tech's Construction Engineering Technology program provides students with backgrounds in mathematics, science, engineering, architecture, and business that prepare graduates for leadership positions in the construction industry. The program gives graduates the responsibility to manage and supervise activities related to converting plans and specifications prepared by engineers and architects into finished facilities.