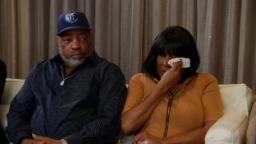 Describing video of his son's arrest, Tyre Nichols' stepfather Rodney Wells told CNN, "A police officer kicked him a few times like he was playing football. "
"They had this little thing like a stick, and it was a metal thing they pulled out," Wells told CNN's Don Lemon. "They pulled it out – like an antenna. I saw them pull it out and they started hitting my son with it. I saw the police beat him, I saw the police kick him."
Wells added that officials did not provide assistance to his son.
"To me, the most telling thing about this video is that there were maybe 10 police officers at the scene, but no one tried to stop him, and even after they beat him and leaned him against the car, no one offered him any help" He said. "They were walking around, smoking, as if everything was peaceful."
"He was sitting there, and then he fell down. An officer came up to him and said, 'Sit up, ma-mf,' you know, and he was still in handcuffs. So, he had to, they helped him up Get up, he falls again, they pick him up again, but no one offers help," he continued.
"I saw some people from the fire department come out, they just walked around, no one helped him, they should have first aid training. When the ambulance stopped, we couldn't see anything because the ambulance blocked the camera ," Wells said.
The City of Memphis plans to post the video sometime after 6:00 pm local time (7:00 pm ET).
Watch it here: