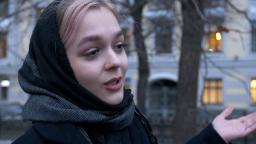 Russia's tightly controlled state media reacted angrily to this week's promised shipment of Western tanks to Ukraine — and some Moscow residents echoed the same outrage.
Ukrainian tanks "will hinder our military," Sergey told CNN in the Russian capital. "But we're going to win anyway. It's only going to widen the conflict," he said, repeating the Kremlin's claim that Ukraine is a puppet government for the West.
"This will start another world war," added an older woman. "We remember WWII very well, when I was a kid. Nobody's going to win another world war."
But that's not the only spectacle on the streets of Moscow. Many Russians expressed anger over the conflict, with some directly criticizing President Vladimir Putin.
"It's disgusting … they shouldn't have started the war at all," said one woman, adding that Putin was "guilty" for the invasion.
"There is a lack of public information," said another, expressing their dismay at the pro-war propaganda that has flooded Russian television broadcasts. "People should explain things… It would be great if experts started expressing their real opinions instead of following orders from the government and Putin."
Others think it's time for Russia to back out. "I think it's a political war, not a people's war. Let them fix this," said another woman.
"What should we do? Our opinion is to squat obediently."
A film student with a friend who fought in the conflict said: "I'm on the verge of tears here. I just wish this particular military operation never started in the first place, a war where human lives are really precious. "